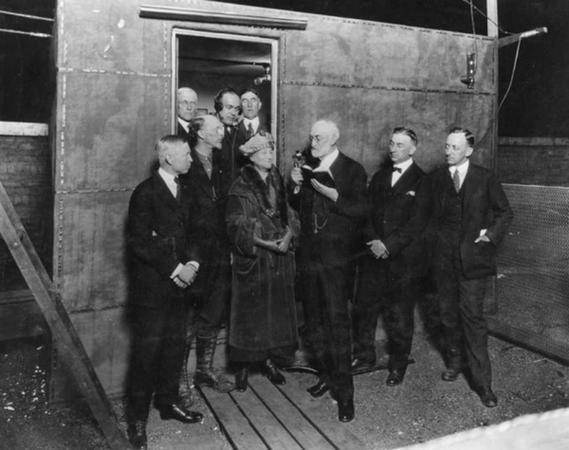 Pres. Heber J. Grant participating in the first commercial radio broadcast in Utah.

Back, left to right: Mormon Apostle Anthony W. Ivins, ???, ???
Front, left to right: Deseret News Business Manager Nathan O. "Nate" Fullmer, L.D.S. Apostle George Albert Smith,
Mrs. Heber J. Grant, L.D.S. Church President Heber J. Grant, Salt Lake City Mayor Charles Clarence Neslen,
and President Grant's son-in-law George Jenkins Cannon

This photograph was taken on the occasion of the first official broadcast of the first commercial radio station in Utah, KZN (changed to KSL around 1924). On May 6, 1922, prominent LDS church and civic leaders were invited to the rooftop of the Deseret News Building in Salt Lake City to participate in a 30-minute program. At 8:00 pm, Fullmer opened the program with a brief greeting to the radio world. Pres. Heber J. Grant was next and recited a scripture and offered a religious message to listeners. His wife then commented on the occasion. Mayor Clawson also spoke, congratulating the Deseret News for introducing radio to Utah.

Photo contributed by Stephen D. Schmutz on 11/4/2015.



REFERENCES
Utah's First Radio Station
by Pearl F. Jacobson
Utah Historical Quarterly, Volume 32, Number 2, Spring 1964

Radio in Utah Began in May 1922 on Station KZN
by Yvette D. Ison, History Blazer, April 1995 (Utah History to Go)

KZN: The Birth of Radio in Utah (1922-1924)
by Anna Lola Hatton, April 26, 2012
Utah Communication History Encyclopedia

Wikipedia article on KSL (radio)

KSL Radio Celebrates its 85th Birthday - Part 1

The Deseret News was a radio pioneer
by Michael De Groote, Deseret News, January, 30 2011

Encyclopedia of Mormonism, Volume 1, Broadcasting
by Bruce L. Christensen

Labeled photo from KSL

Digital Public Library of America photo

Photo on Facebook