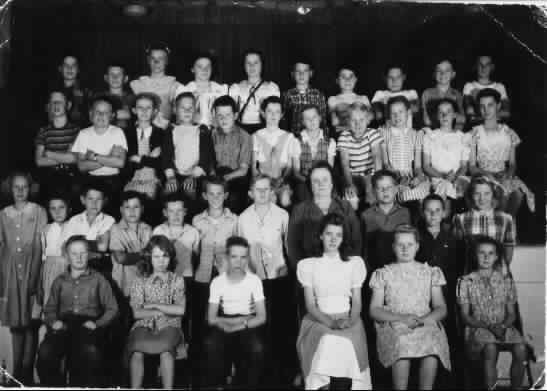 Photo of Mrs. Misha Seegmiller's 1947-1948 5th grade class at the old St. George Elementary School.

Rear row (left to right): Pennie Rae Pace, Norman Carpenter, Caroline Kimball, Annette Snow,
Wanetta Hardy, Ivor Jones, Danny Dustin, Spencer Sheets, Reed Gardner, Dallas Lister
Third row (left to right): Reuben Joseph Snow, Kerry Cannon, Lenore Syphus, Grey Larkin, Melvin Miles,
Marcia Crandall, Joyce Jessop, Clark Nelson, Cleone Wallis, Geniel McConkie, Amelia Ann Pendleton
Second row (left to right): Mary Ruth Kirtland, Clorinda Stratton, Leo ???, Bruce Stowell, Kenneth Nelson,
Joseph Kay Brooks, Stanley Esplin, Misha Seegmiller (teacher), Bruce Addis, Ross Pectol, Dorthy Hall
Front row (left to right): Glendel Bunker, Wenda Nelson, Robert Lytle, Hortense Sylvester, Irene Dalton,
Beatrice Condie

Photo contributed by Clark Nelson on March 8, 2012.