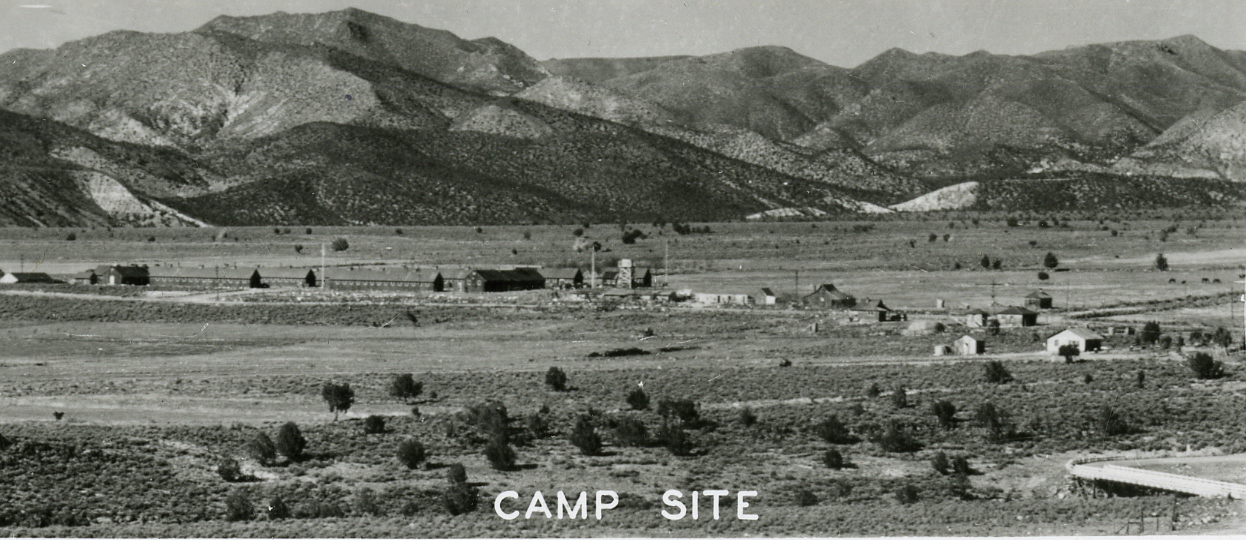 Photo of the Veyo CCC Camp.
Dated December 5, 1939.

This photo was extracted from WCHS-01046.

For this photo with particular features identified, click here.

A = Jim Tullis / John Bowler Home.
B = Lemuel "Lem" Leavitt's house, currently owned by Lonnie Hafen. It is still there.
C = Lem's outbuilding. It is now gone.
D = Home built by Albert Bunker for his daughter Mildred and her Husband, Lewis Bowler. It is now gone.
E = " outbuilding, now gone
E and D = Now the site of the Spanish Trail Supply.
F = Building owned by Richard & Helen Bowler. It is no longer there.
Hwy 18 = Was a lane that went up to a home built by Archie Chadburn. But at this time, it was owned by Milton Bowler.
Hwy 18 now extends straight south from that lane.
G = John Bowler's shop. George H. Howarth lived with John and used the carpenter shop & toolshed.
H = Water tower with a tank on top. The CCC camp got water from the creek/river and then added chlorine.
I = Captain's quarters (probably the right one). This whole area, including the CCC camp was John Bowler's property.
He was the caretaker for the camp.
J = This building was built by William "Bill" Jones (not the Gunlock or Veyo Jones family; the Enoch Jones').
At the time this picture was taken, it was owned by Jim & Zella Hunt. When they separated, Zella got it. It is no longer there.
It was located about where the pie shop and storage unit is now.
Lower Right Corner = The old Veyo Bridge.