LOCATION
The Old Veyo Bridge crossed the Santa Clara River (Crawdad Canyon)
just northeast of the newer Veyo Arch Bridge.
The bridge is no longer there, but the abutments and a pipe across the river remain.

37° 20' 1.43" North Latitude, 113° 41' 27.17" West Longitude
37.3337° North Latitude, 113.6909° West Longitude
4,420 feet (1,347 meters) MSL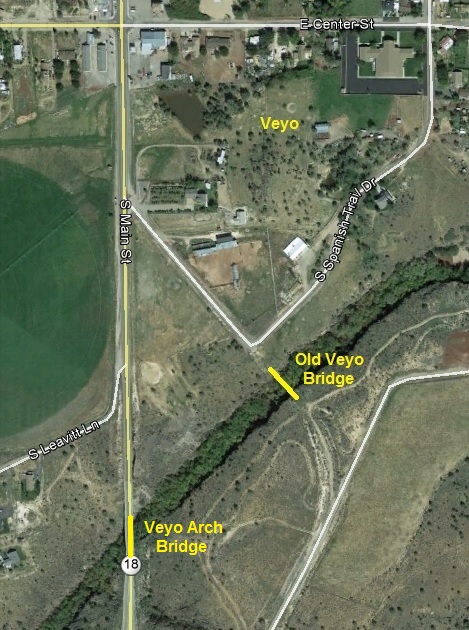 DESCRIPTION
This bridge was narrow and consisted of two steel spans joined together by cross beams.
The top was lined with wooden beams running from one beam to the other.
The spans were narrow and according to Heber Jones, young boys used to dare each other
to cross the gorge on these beams, and some of them did.
There was a "10 Ton Limit" sign on it.



HISTORY
The Old Veyo Bridge was built in 1921 by the Utah State Road Commission.
At the same time, the main road was changed from east of town to right down through the center of town.

In 1957, the new Veyo Arch Bridge was built slightly to the southwest of the old bridge.



PHOTOS

WCHS-03306 Photo of the Old Veyo Bridge

Other WCHS photos:
WCHS-01316 Photo of the Old Veyo Bridge under construction in 1921



REFERENCES
TBD