WASHINGTON COUNTY HISTORICAL SOCIETY (Washington County, Utah)
WILLIAM HAYNES HAMBLIN
(Bill Hamblin, "Gunlock" Hamblin)
(pioneer settler, scout, prospector, gunsmith, missionary)
BIOGRAPHY
William Haynes Hamblin was born in Salem, Ohio on October 28, 1830.

He was the person after whom the town of Gunlock was named.

In 1863, Bill and his partner Daniel C. Sill were raising sheep in Nevada. Hamblin had befriended a Paiute Indian named Moroni, who brought him a piece of glittering ore. Moroni refused to tell him where it came from, as his dying father had warned him never to disclose the location to Whites, because they would drive the Indians from their hunting grounds to secure the riches. Eventually Hamblin wore down his resolve and gave him a new rifle as a gift. Accompanied by William Pulsipher and Daniel C. Sill, the three men dug down and exposed a well-defined vein and laid claim to the spot. When others heard of it, they tried to buy them out, but the partners refused to sell. In the fall of 1864, Bishop Edward Bunker, from Santa Clara, organized an expedition to the site. His group (including Hamblin, Pulsipher, and Sill ) surveyed and outlined a square claim but did not organize a mining district or post the traditional notice. The next year, a group from Salt Lake City arrived to find Hamblin, Moroni, and Sill, working on their claims. They came to an agreement, and the Meadow Valley Mining District was formed. The interested group returned to Salt Lake City for supplies, and Hamblin and Sill returned to their homes at Clover Valley.

Organization of a mining district stripped the land from the Paiute Indians and loosened the grip of the Mormon leaders who hoped to settle the area. Paiute hostility stopped the mining activity for almost six years. Meanwhile, investors were sought, and John H. Ely invested machinery. Ely and William Raymond bought the original titles from Hamblin, Pulsipher, and probably Sill, and founded the famed Raymond & Ely Mine.

In the spring of 1872, Hamblin was subpoenaed to Carson City, Nevada, to testify at Pioche in a case concerning the ownership of the mine. He took a doctor friend and a lawyer with him. Despite his wife's warning to eat or drink nothing in a public place, he nervously sipped coffee at a restaurant. He stood and gasped, "I've been poisoned" and fell to the floor. The doctor friend began to treat him immediately, and when he was well enough to travel they loaded him into a wagon and set off for home in Gunlock, Utah. A few days later, he had a stroke and only lived a short time. Hamblin died on May 8, 1872 in Barclay (Clover Valley), Lincoln County, Nevada. He is buried in the cemetery there.



FAMILY
Parents and Siblings:
Isaiah Hamblin
Daphne Haynes Hamblin
Melissa Daphne Hamblin
Emily Haynes Hamblin
Jacob Vernon Hamblin

Olive Haynes Hamblin
Adeline Amarilla Hamblin
Obed Hamblin
Alson Haynes Hamblin
William Haynes Hamblin
Oscar Hamblin
Edwin Hamblin
Francis Marion Hamblin
Frederick Hamblin

(6/20/1790-10/7/1856) (married 11/30/1812)
(8/29/1797-8/29/1847)
(2/2/1813-7/4/1845) (married Isaac Fuller Cooper)
(10/31/1816-7/4/1845) (married Xxxxxxx X. Xxxxxxxx)
(4/2/1819-8/31/1886) (married Lucinda Taylor, Rachel Judd,
Sarah Priscilla Leavitt, Eliza, and Louisa Bonelli)
(5/1/1821-7/9/1839)
(9/18/1823-7/20/1895) (married Xxxxxxx X. Xxxxxxxx)
(2/25/1826-??/??/1848)
(4/28/1828-8/11/1862) (married Xxxxxxx X. Xxxxxxxx)
(10/28/1830-5/8/1872) (married as shown below)
(4/4/1833-11/8/1862) (married Xxxxxxx X. Xxxxxxxx)
(5/20/1835-1/12/1925) (married Xxxxxxx X. Xxxxxxxx)
(11/27/1839-7/30/1881) (married Xxxxxxx X. Xxxxxxxx)
(2/12/1841-11/8/1922) (married Xxxxxxx X. Xxxxxxxx)

First Wife and Children:
Mary Amelia Leavitt Hamblin
Sarah Daphne Hamblin
Mary Emily Hamblin
Mary Amelia Hamblin
Eliza Olive Hamblin
Rachel Hamblin
Jacob Hamblin
Thomas Rowel Hamblin
Henry Hamblin
Joseph E. Hamblin


(2/10/1832-8/12/1893) (married 2/10/1850)
(5/26/1852-xx/xx/1870) (married Daniel Edgar Deal)
(12/4/1853-1/25/1902) (married Warren King Follett)
(8/21/1855-4/1/1933) (married Charles Young Webb)
(7/4/1857-4/8/1943) (married John William Mangum)
(2/3/1859-3/24/1942) (married Albert Nathan Lewis)
(10/8/1860-xx/xx/1862)
(4/6/1862-8/22/1941) (married Elizabeth Ann Allen, Irene Coplan, and Mary Malvina Coons)
(2/21/1864-xx/xx/1866)
(1/16/1868-3/29/1943) (married Fanny Adeline Noble, Nancy May Rogers, and Emma Celestia Willden)

Second Wife and Children:
Betsey Jane Leavitt Hamblin
William Dudley Hamblin
Betsey Jane Hamblin
Almira Hamblin
Duane Hamblin
Anna Eliza Hamblin
Hyrum Hamblin
Clara Hamblin
Sarah Priscilla Hamblin


(5/12/1839-10/17/1917) (married 8/24/1855)
(1/20/1856-12/9/1934) (married Mary Abigail Mangum)
(1/22/1858-8/25/1904) (married George Albert Mangum)
(10/26/1860-11/22/1940) (married George Washington Adair)
(xx/xx/xxxx-xx/xx/xxxx) (married Xxxxxxx X. Xxxxxxxx)
(xx/xx/xxxx-xx/xx/xxxx) (married Xxxxxxx X. Xxxxxxxx)
(xx/xx/xxxx-xx/xx/xxxx) (married Xxxxxxx X. Xxxxxxxx)
(xx/xx/xxxx-xx/xx/xxxx) (married Xxxxxxx X. Xxxxxxxx)
(xx/xx/xxxx-xx/xx/xxxx) (married Xxxxxxx X. Xxxxxxxx)
PHOTOS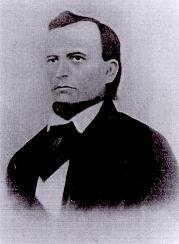 REFERENCES
Biography of William Haynes Hamblin
William Haynes (Gunlock) Hamblin Marker
It's All Relative family group sheet for William Haynes Hamblin
Three Sisters plaque at the gravesite of Betsey Jane Leavitt Hamblin
Find-A-Grave entry for William Haynes Hamblin
Biography of Isaiah Hamblin