BIOGRAPHY
William Henry Stokes Nicholls was born April 13, 1873 in Walsall, Staffordshire, England.

William immigrated to America in May of 1878 and was baptized in the Mormon Church in 1881.

Elizabeth Louella Daisy Hartman was born March 12, 1883 in Silver Reef (Beaver?). Her mother was an adopted Indian child. Her mother died in Silver Reef when Daisy was five years old. Her father remarried when Daisy was ten years old and her stepmother died five years later. In 1900, Daisy was living with her father and brothers in Leeds

On the 1900 census, William was a silver miner, living in St George with his brother's family.

William & Daisy married on December 19, 1901 in Leeds. William worked at an assortment of jobs during their years in the Leeds area. He was variousely described as an odd jobs laborer, thrasher, farmer, mine laborer, and silver mine mucker.

By 1948, they had moved to Los Angeles where William became a naturalized citizen.

William died September 1, 1951 in Los Angeles, but was buried in the Leeds Cemetery.

Daisy died on February 2, 1956 in Los Angeles and was buried in Glen Haven Memorial Park in Sylmar, California.



FAMILY
William's Parents and Siblings:
Arthur Nicholls
Sara Ann Stokes Nicholls
Xxxxxxx X. Xxxxxxxx
Lizzie Amelia Nicholls
Xxxxxxx X. Xxxxxxxx
William Henry Stokes Nicholls
Charles Herbert Nicholls
Xxxxxxx X. Xxxxxxxx
Thomas Sandford Nicholls
Catherine May Nicholls
Arthur Davies Nicholls

(2/24/1846-3/29/1924) (married xx/xx/xxxx)
(7/6/1850-3/25/1935)
(xx/xx/xxxx-xx/xx/xxxx) (married Xxxxxxx X. Xxxxxxxx)
(2/7/1869-4/17/1958) (married James Gilmer Wilder)
(xx/xx/xxxx-xx/xx/xxxx) (married Xxxxxxx X. Xxxxxxxx)
(4/13/1873-9/1/1951) (married Elizabeth Louella Daisy Hartman)
(12/10/1875-6/13/1962) (married Chresta Loa Hartley)
(xx/xx/xxxx-xx/xx/xxxx) (married Xxxxxxx X. Xxxxxxxx)
(6/24/1883-11/26/1956) (married Ruth Durfee)
(12/12/1885-1/2/1886)
(3/14/1887-1/13/1973) (married Phoebe Asay)

Daisy's Parents and Siblings:
William Albert Hartman
Minnie Perkins Burgess Hartman
Elizabeth Louella Daisy Hartman
Xxxxxxx X. Xxxxxxxx
Xxxxxxx X. Xxxxxxxx


(xx/xx/xxxx-xx/xx/xxxx) (married xx/xx/xxxx)
(xx/xx/xxxx-xx/xx/1888)
(3/12/1883-2/2/1956) (married William Henry Stokes Nicholls)
(xx/xx/xxxx-xx/xx/xxxx) (married Xxxxxxx X. Xxxxxxxx)
(xx/xx/xxxx-xx/xx/xxxx) (married Xxxxxxx X. Xxxxxxxx)

William & Daisy's Family:
William Stokes Nicholls
Daisy Hartman Nicholls
Xxxxxxx X. Xxxxxxxx
Wanda Louise Nicholls
Xxxxxxx X. Xxxxxxxx
Xxxxxxx X. Xxxxxxxx
Xxxxxxx X. Xxxxxxxx
Xxxxxxx X. Xxxxxxxx
Xxxxxxx X. Xxxxxxxx
Xxxxxxx X. Xxxxxxxx
Annie "Berniece" Nicholls


(4/13/1873-9/1/1951) (married 12/19/1901)
(3/12/1883-2/2/1956)
(xx/xx/xxxx-xx/xx/xxxx) (married Xxxxxxx X. Xxxxxxxx)
(8/20/1904-1/10/1940) (married George O. Laub)
(xx/xx/xxxx-xx/xx/xxxx) (married Xxxxxxx X. Xxxxxxxx)
(xx/xx/xxxx-xx/xx/xxxx) (married Xxxxxxx X. Xxxxxxxx)
(xx/xx/xxxx-xx/xx/xxxx) (married Xxxxxxx X. Xxxxxxxx)
(xx/xx/xxxx-xx/xx/xxxx) (married Xxxxxxx X. Xxxxxxxx)
(xx/xx/xxxx-xx/xx/xxxx) (married Xxxxxxx X. Xxxxxxxx)
(xx/xx/xxxx-xx/xx/xxxx) (married Xxxxxxx X. Xxxxxxxx)
(3/11/1917-11/21/2001) (married Eugene S. Riley)
PHOTOS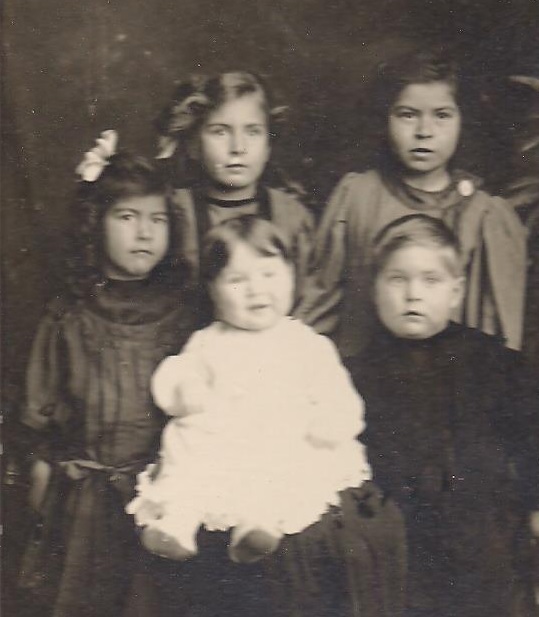 Wilhelmina, Roberta May, Wanda Louise, John Charles, and Elbert William Nicholls



REFERENCES
William Henry Stokes Nicholls & Elizabeth Louella Daisy Hartman
A research report by Elaine Young, PhD.

Find-A-Grave entry for William Henry Stokes Nicholls

Find-A-Grave entry for Daisy H Nicholls