BIOGRAPHY
William Carter was born in Ledbury, Herefordshire, England on February 12, 1821.

William was baptized by a member of the Church of Jesus Christ of Latter-day Saints on December 27, 1840.
William and his sister Elizabeth's family, who had also joined the Church, came crossed the ocean and traveled
to Nauvoo, Illinois in the summer of 1841. William bought a farm about two and one-half miles southeast of
Nauvoo and began raising grain.

While taking grain to a gristmill on a farm owned by John Benbow, he met John's niece, Ellen Benbow. As a girl,
Ellen had lived with her Uncle Benbow near Ledbury, England, William's birthplace. William and Ellen had not
met before, but they fell in love and were married on December 5, 1843.

William & Ellen left Nauvoo in 1846 and in 1847 crossed the plains to the valley of the Great Salt Lake.

William married his first plural wife, Harriet Temperance Utley, on November 23, 1853.

William married another plural wife, Sophronia Ellen Turnbow, on February 8, 1857.

At the October 1961 general conference of the Church, Brigham Young called William, along with others, to go
down to the Cotton Mission in southern Utah. William took his third wife and their one child, while the other two
wives and their children remained in Salt Lake. William arrived in Dixie in November of 1861.

William plowed the first first land in St. George (he had also plowed the first half acre of land to be plowed in the
Salt Lake Valley). He also led in building an irrigation system. William & Sophronia made adobes and built a little
house with a lean-to.

After the harvest in 1862, William returned to Salt Lake for the Church general conference. He sold all of his
property in Salt Lake and moved his other two wives & children down to St. George.

William served as a counselor to Bishop Robert Gardner and also as a member of the town council.

William was put in as overseer of laying the foundation for the St. George Temple. He was put in charge of
having rock hauled and pounding it into ground with the old Napoleon cannon. After completion of the Temple
in 1877, he was an ordinance working in the Temple for 13 years.

William was convicted of unlawful cohabitation in June of 1888. He was fined $300 and imprisoned in the
Utah Territorial Penitentiary from June 2, 1888 to December 1, 1888. He was never quite the same after that
experience.

Willian died in St. George on June 22, 1896 and was buried on June 24 in Plot A_D_84_6_WH of the
St. George City Cemetery.



FAMILY
William's Parents and Siblings:
Thomas Carter
Sarah Parker Carter
James Parker
Elizabeth Carter
Thomas Carter
Sarah Carter
William Carter
Mary Ann Carter
William Carter
Caroline Carter

(8/9/1789-9/23/1848) (married 10/29/1810)
(6/1/1786-1/22/1842)
(xx/xx/1808-xx/xx/1881) (son of Sarah) (married Xxxxxxx X. Xxxxxxxx)
(xx/xx/1811-xx/xx/1889) (married Charles Thomas)
(xx/xx/1813-xx/xx/1852) (married Xxxxxxx X. Xxxxxxxx)
(xx/xx/1816-xx/xx/1836) (married Samuel Walton Utley)
(xx/xx/1817-10/7/1817)
(xx/xx/1818-xx/xx/1886) (married Xxxxxxx X. Xxxxxxxx)
(2/12/1821-6/22/1896) (married as shown below)
(xx/xx/1824-xx/xx/1908) (married Xxxxxxx X. Xxxxxxxx)

First Wife and Children:
Ellen Benbow Carter
James Benbow Carter
Ellen Benbow Carter
William John Benbow Carter
Marion Benbow Carter
Eunice Benbowv


(5/20/1825-5/6/1901) (married 12//5/1843)
(xx/xx/xxxx-xx/xx/xxxx) (married Xxxxxxx X. Xxxxxxxx)
(xx/xx/xxxx-xx/xx/xxxx) (married Xxxxxxx X. Xxxxxxxx)
(xx/xx/xxxx-xx/xx/xxxx) (married Xxxxxxx X. Xxxxxxxx)
(xx/xx/xxxx-xx/xx/xxxx) (married Xxxxxxx X. Xxxxxxxx)
(xx/xx/xxxx-xx/xx/xxxx) (married Xxxxxxx X. Xxxxxxxx)

Second Wife and Children:
Harriet Temperance Utley Carter
Samuel Utley Carter
Isabella Utley Carter
Willard Utley Carter
Henry Lafayette Carter
Jacob Utley Carter
Sarah Elizabety Carter
Harriet Maria Carter
James Utley Carter


(7/11/1835-7/16/1925) (married 11/23/1853)
(xx/xx/xxxx-xx/xx/xxxx) (married Xxxxxxx X. Xxxxxxxx)
(xx/xx/xxxx-xx/xx/xxxx) (married Xxxxxxx X. Xxxxxxxx)
(xx/xx/xxxx-xx/xx/xxxx) (married Xxxxxxx X. Xxxxxxxx)
(xx/xx/xxxx-xx/xx/xxxx) (married Xxxxxxx X. Xxxxxxxx)
(xx/xx/xxxx-xx/xx/xxxx) (married Xxxxxxx X. Xxxxxxxx)
(xx/xx/xxxx-xx/xx/xxxx) (married Xxxxxxx X. Xxxxxxxx)
(xx/xx/xxxx-xx/xx/xxxx) (married Xxxxxxx X. Xxxxxxxx)
(xx/xx/xxxx-xx/xx/xxxx) (married Xxxxxxx X. Xxxxxxxx)

Third Wife and Children:
Sophronia Ellen Turnbow Carter
Adeline Turnbow Carter
Wilford John Turnbow Carter
Franklin Turnbow Carter
Milton Turnbow Carter
Sanuel Amos Turnbow Carter
Sylvira Caroline Carter
Sophronia Ellen Carter
Mary Ann T Carter
Austin Turnbow Carter


(1/23/1841-2/5/1925) (married 2/8/1857)
(xx/xx/xxxx-xx/xx/xxxx) (married Xxxxxxx X. Xxxxxxxx)
(xx/xx/xxxx-xx/xx/xxxx) (married Xxxxxxx X. Xxxxxxxx)
(xx/xx/xxxx-xx/xx/xxxx) (married Xxxxxxx X. Xxxxxxxx)
(xx/xx/xxxx-xx/xx/xxxx) (married Xxxxxxx X. Xxxxxxxx)
(xx/xx/xxxx-xx/xx/xxxx) (married Xxxxxxx X. Xxxxxxxx)
(xx/xx/xxxx-xx/xx/xxxx) (married Xxxxxxx X. Xxxxxxxx)
(xx/xx/xxxx-xx/xx/xxxx) (married Xxxxxxx X. Xxxxxxxx)
(xx/xx/xxxx-xx/xx/xxxx) (married Xxxxxxx X. Xxxxxxxx)
(xx/xx/xxxx-xx/xx/xxxx) (married Xxxxxxx X. Xxxxxxxx)
PHOTOS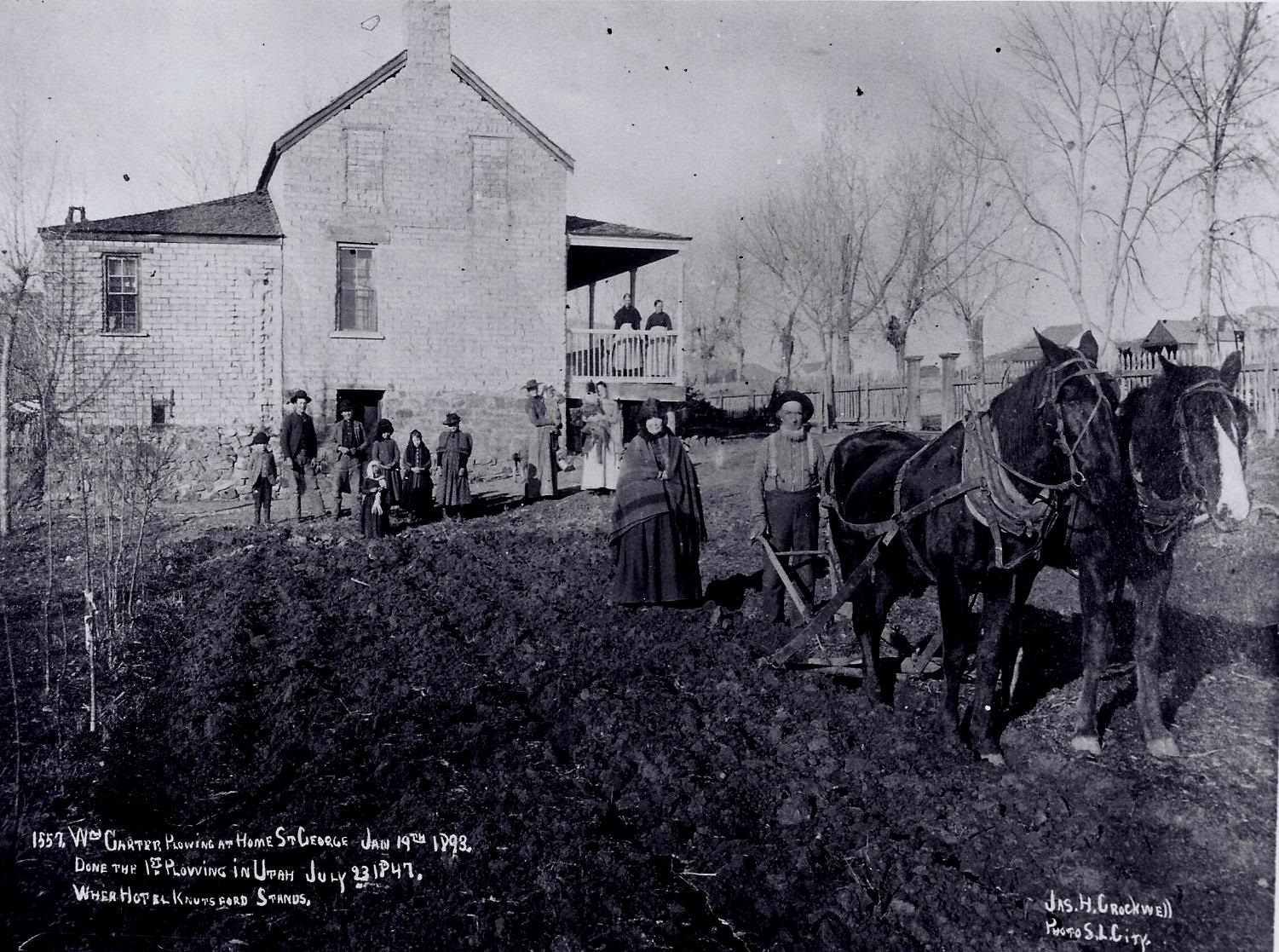 WCHS photos:
WCHS-04329 Photo of polygamists including William Carter in the Utah Territorial Penitentiary in 1888



REFERENCES
Life History of William Carter

William Carter

William Carter, First Plowman In Utah
By Joycee Carter Wilson, Senior Sampler, May 21, 2021

FamilySearch entry for William Carter

Find-A-Grave entry for William Carter

FamilySearch entry for Ellen Benbow

Find-A-Grave entry for Ellen Benbow Carter

FamilySearch entry for Harriet Temperance Utley

Find-A-Grave entry for Harriet Temperance Utley Carter

FamilySearch entry for Sophronia Ellen Turnbow

Find-A-Grave entry for Sophronia Ellen Lenora Turnbow Carter