BIOGRAPHY
Wallace M. Gray was born in Santa Clara on February 29, 1892.

Wallace left St. George on November 2, 1917 to join the United States Army. He was a Private in the 148th Field Artilery.

Pvt. Gray was killed in action on the battle front in France on October 8, 1918. He is buried in Plot 2N07 of the Santa Clara City Cemetery.



FAMILY
Parents and Siblings:
William Alden Gray
Anna Barbara Graff Gray
Alyce Wilhelmina Gray
William Alden Gray
Wallace M. Gray
Verna Gladys Gray

(3/16/1862-7/18/1934) (married xx/xx/xxxx)
(2/25/1859-1/14/1924)
(11/5/1886-10/27/1980) (married John G. Gubler)
(9/20/1887-10/13/1929) (married Matilda Stucki)
(2/29/1892-10/7/1918)
(11/8/1898-5/3/1975) (married Andrew Godfrey Laub)
PHOTOS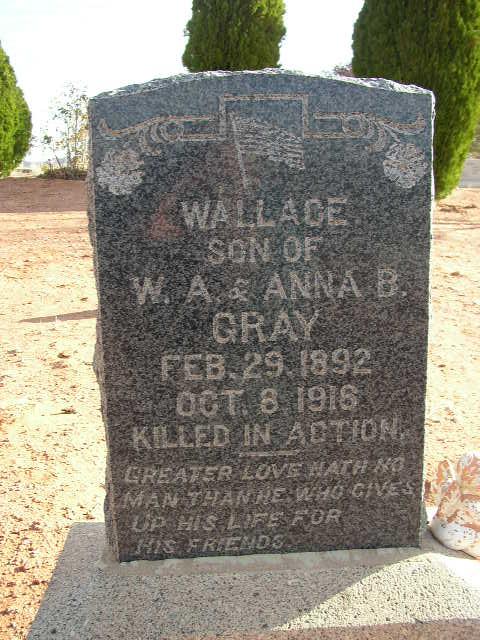 REFERENCES
Find-A-Grave entry for Wallace Gray

Death Notice in the The Improvement Era, Volume 22, Page 684

El Paso Herald, Monday, December 9, 1918, Page 3
Pvt. Gray's name is listed near the bottom of Column 5.