BIOGRAPHY
James Russell Kimmerly (sometimes mistakenly identified at Russell James Kimmerly was born in Pike,
Pike County, Kentucky on October 14, 1916. He spent most of his life in Clermont County in southwest Ohio.

Russell enrolled in the Civilian Conservation Corps on April 11, 1936 at Fort Knox, Kentucky at the age of 19.
He traveled to Cedar City and then down to St. George. He was assigned to CCC Company 2558 at Camp
DG-45 from April 19 to August 14, 1936. He worked as a laborer with pick & shovel on road construction and did
range survey work. From August 15 to September 19, 1936 he was assigned to Company 2557 Camp DG-44 in
Fredonia, Arizona. He then returned to St. George for September 20 and 21. Having elected to not reenroll in
the CCC, on September 22, he departed for Fort Knox, Kentucky. Russell was discharged from the CCC on
September 30,1936 at Fort Knox.

Russell was a World War II veteran.

Russell spent several years in New York City in the early to mid 1940s, where he met and married Jenny
Martinsen in 1940. They had one child, Russell N. Kimmerly, who is still living. Russell and Jenny divorced
in 1947.

Back in Ohio, Kimmerly was self-employed for a number of years before beginning a career with the US Post
Office. He was married to Mary A. Schmidt from 1970 until her death in 1990.

Russell died on March 21, 2007 in Owensville, Clermont County, Ohio and was buried in the Saint Louis
Catholic Cemetery in Owensville.



FAMILY
Russell's Parents and Siblings:
John J. Kimmerly
Margie B. Hager Kimmerly
Anna Myrtle
Nellie Mae
Mary Edna
Dixie Glenis
James Russell
Eli York
Philip D.
Paul E.
John R.
Robert R.

(xx/xx/1872-xx/xx/1950) (married xx/xx/xxxx)
(xx/xx/1889-xx/xx/1971)
(xx/xx/1905-xx/xx/2004) (married Louis Buhler, 1884-1963)
(xx/xx/1907-xx/xx/2002) (married Lester Jaques, 1902-1982)
(xx/xx/1910-xx/xx/1972) (married William H. Jones, 1912-1973)
(xx/xx/1914-xx/xx/2002) (married Clarence Kirskdden, 1909-1988)
(10/14/1916-3/21/2007) (married as shown below)
(xx/xx/1918-xx/xx/2016) (married Violet Hall, 1925-2009)
(xx/xx/1922-xx/xx/1926)
(xx/xx/1924-xx/xx/2009) (married Martha Elbert, 1927-1993)
(xx/xx/1929-xx/xx/1988) (married Earla Shaw, 1925-2004)
(xx/xx/1934-xx/xx/xxxx) (married Joan Farquar, 1934-2003)

First Wife and Child:
Jenny Martinsen Kimmerly
Russell N. Kimmerly


(xx/xx/1920-xx/xx/1988) (married xx/xx/1940; divorced xx/xx/1947)
(xx/xx/1942-xx/xx/xxxx) (married Xxxxxxx X. Xxxxxxxx)

Second Wife:
Mary A. Schmidt Kimmerly


(xx/xx/1920-xx/xx/1990) (married xx/xx/1970)
PHOTOS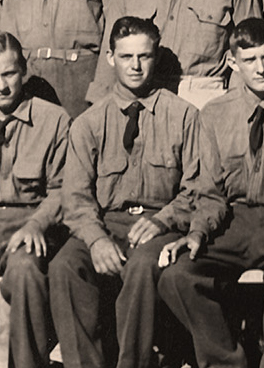 WCHS-04469 J. Russell Kimmerly

Other WCHS photos:
WCHS-04468 Photo of people assigned to the St. George CCC Camp in 1936
WCHS-04469 Photo of J. Russell Kimmerly at the St. George CCC Camp
WCHS-04470 Photo of J. Russell Kimmerly in front of the office at the St. George CCC Camp
WCHS-04471 Photo of Russell and two other enrollees in front of a rock building at the St. George CCC Camp
WCHS-04472 Photo of J. Russell Kimmerly standing on a rock above a canyon in southern Utah
WCHS-04473 Photo of Russell and five other enrollees from the St. George CCC Camp
WCHS-04475 Photo of Russell and another CCC enrollee holding up a CCC Company 2558 flag



REFERENCES
Certificate of Discharge from Civilian Conservation Corps
Record of Service in Civilian Conservation Corps
FamilySearch entry for James Russell Kimmerly
Find-A-Grave entry for Russell J Kimmerly