BIOGRAPHY
Robert Leroy Parker was born on April 13, 1866 in Beaver, Utah. During his early years, he livied with his mother, Annie, and his grandmother, Jane Gillies, in Beaver.

By 1800, the family had moved to Circleville in Piute County, Utah. Robert worked on the Jim Marshall ranch where he met Mike Cassidy. From Mike, he learned riding, roping, branding, and shooting, and even cattle rustling. Before he turned 16, Robert was known as the best shot in Circle Valley.

Sometime around 1884, Robert left home and drifted around the west. He lived in Colorado for a while. He worked for a short time as a butcher in Rock Springs, Wyoming and earned the nickname, "Butch".

In 1892, he purchased a horse ranch in Dubois, Wyoming. I was never very successful. It was notes that he sold livestock, but never bought any.

Around 1897, Butch and his outlaw friends lived in Robber's Roost, Utah. Several girlfriends joined the outlaws there for several months.

On 2/20/1901, Butch purchased a ranch with a four-room cabin on 15,000 acres in Cholila, Chubut, Argentina. He sold the ranch on 2/14/1905.

On 5/1/1905, Butch took the steamer, Condor, across Nuhuel Huapi Lake into Chile.

In 1907, Butch and Sundance took a job guarding the company payroll at the Concordia Tin Mine in Santa Cruz, Bolivia.

Crimes:

1887, Grand Junction, Colorado: Some believed he committed his first train robbery.

6/28/1889, Telluride, Colorado: Butch robbed the San Miguel Bank, stealing about $21,000 and fled to Robber's Roost, Utah.

1894-1896, Wyoming: & Butch was arrested in Lander for stealing horses. He was imprisoned in the Wyoming State Prison in Laramie where he served 18 month of a two year sentance. He was pardoned by Governor William Alford Richards.

8/13/1896, Montpelier, Idaho: Butch and the Wild Bunch robbed the Montpelier bank of $7,000.

4/22/1897, Price, Utah: Butch robbed (Castle Gate Robbery) a small group of men who were carrying the payroll of the Pleasant Valley Coal Company, stealing $7,000 in gold.

6/2/1899, Wilcox, Wyoming: Butch and his gang used way too much dynamite and blew a train car apart (Wilcox Train Robbery).

8/29/1900, Tipton, Wyoming: Butch and his gang robbed a Union Pacific train. There was $50,000 in gold on the train which was payment for the troops fighting the Spanish-American War.



FAMILY
Robert's Parents and Siblings:
Maximillian Parker
Ann Campbell Gillies Parker
Robert Leroy Parker
Daniel Sinclair Parker
Arthur H. Parker
Jean Ann Parker
William Moroni Parker
Susan Knell Parker
Maxmillian Ebenezer Parker
Blanche Alice Parker
Lula Christine Parker
Mark D'Lafiet Parker
Nina Grace Parker
Leona Hartley Parker
Joseph Rawlins Parker

(6/8/1844-7/28/1938) (married 7/12/1865)
(7/12/1846-5/1/1905)
(4/13/1866-11/7/1908)
(11/21/1867-8/5/1942) (married Annice Ann McMullin)
(11/6/1869-7/5/1890)
(10/16/1871-4/7/1960) (married Thomas Christopher Penaluna)
(2/23/1874-5/11/1952) (married Mary Jane Lamb)
(8/26/1876-10/26/1964) (married Hollis Charles Teitjen)
(6/19/1879-10/22/1957) (married Walter Dean Stark)
(11/5/1881-6/16/1967) (married Xxxxxxx X. Xxxxxxxx)
(4/5/1884-5/5/1980) (married Joseph Adelbert Betenson)
(10/4/1886-6/7/1932) (married Xxxxxxx X. Xxxxxxxx)
(1/26/1889-1/1/1923) (married Carl Edward Ecklund)
(11/19/1891-5/1/1937) (married James Heber Wiley)
(5/25/1896-1/19/1962) (married Xxxxxxx X. Xxxxxxxx)
PHOTOS
| | |
| --- | --- |
| Robert Leroy Parker in 1894 | Robert Leroy Parker in 1900 |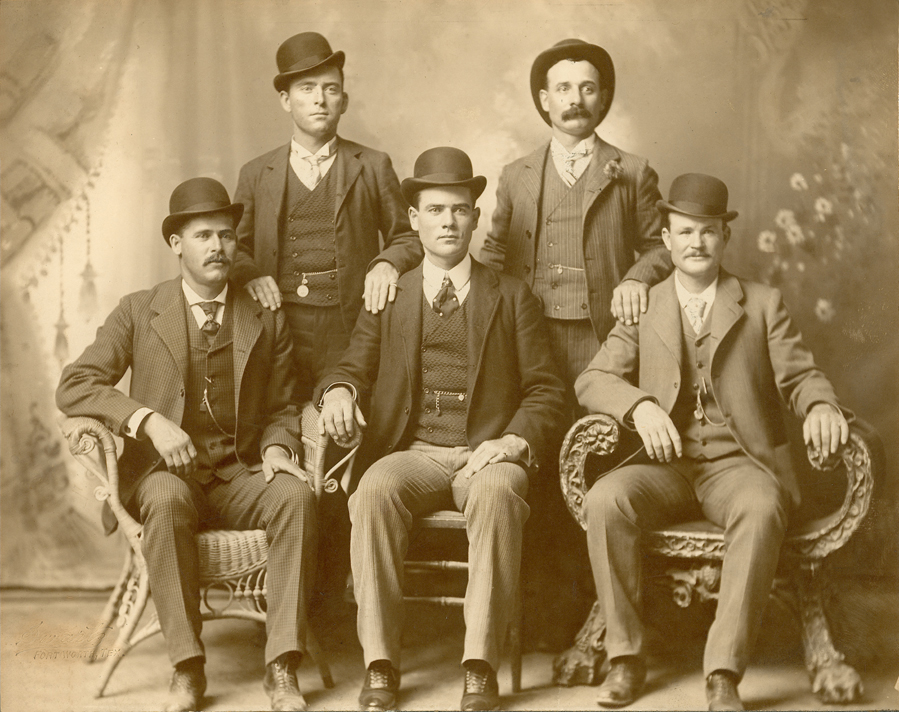 The Ft. Worth Five (l-r): Harry A. Longabaugh, Will Carver, Ben Kilpatrick, Harvey Logan, Robert Leroy Parker



REFERENCES
Wikipedia article on Butch Cassidy

FamilySearch entry for Robert LeRoy Parker

Parker/Charles Dickens Connection
by Kerry Ross Boren & Lisa Lee Boren

Find-A-Grave entry for Butch Cassidy