BIOGRAPHY
Patrick Henry McGuire was born June 14, 1844 in Derrylahan, county of Cavan, Ireland. At the age of 2, he emigrated to Canada with his father. At 19, they came to the United States and in 1872 (arrived July 9) to Utah.

After privately investigating the L.D.S Church, he was baptized on January 1, 1873. He was ordained an Elder on March 24, 1873, a Seventy on May 2, 1886, and a Bishop on November 12, 1898.

Patrick married Sarah Elizabeth Parcell on May 5, 1875 and they had 12 children together. They spent their early years together in Washington County where he engaged in freighting, merchandising, and assisted in the management of the Washington Cotton and Woolen Mills Factory. He was the Superintendent of the Co-op Store in Washington. In August of 1878, he was elected the first recorder of Washington, Utah. He was Superintendent of Sunday schools in Washington from 1879 to 1882 and was President of the 5th Quorum of Elders in the St. George Stake in 1881 and 1882. McGuire acted as secretary of a United Order Company at Price, six miles from St. George, from the time of its organization until its dissolution and the winding up of its business (this organization existed during the years 1876-1877 with Milo Andrus as its superintendent).

Patrick married Ann Eliza Lee on January 1, 1881 and they had two children together. They separated and Annie later remarried and had more children.

Patrick died June 8, 1924 in Daniel (Wasatch County), Utah and was buried in the Heber City Cemetery on June 10, 1924.



FAMILY
Parents and Siblings:
Bernard McGuire (or Maguire)
Susan McHugh
Patrick Henry McGuire
Catherine McGuire Meagher

(xx/xx/1809-7/10/1881) (married xx/xx/xxxx)
(xx/xx/1814-8/xx/1847)
(6/14/1844-6/18/1924) (married Sarah Elizabeth Parcell and Ann Eliza Lee)
(xx/xx/1867-2/24/1935) (married John J. Meagher)

First Wife and Children:
Sarah Elizabeth Parcell
John Parcell McGuire
Patrick Henry McGuire
Annie Elizabeth McGuire
Edna McGuire
Esther McGuire (Tessie)
Francis Preston McGuire
Bernard McGuire
Lewis Curtis McGuire
Ada McGuire
[unnamed son] McGuire
Orson McGuire
James Ernest McGuire


(5/19/1855-5/23/1932) (married 5/31/1875)
(3/6/1876-12/11/1953) (married Amanda Elizabeth Anderson)
(10/15/1877-12/31/1897)
(8/19/1879-7/9/1954) (married William D. Bethers)
(1/12/1881-12/24/1956) (married Ephraim Bethers)
(10/16/1883-4/7/1979)
(10/10/1885-3/11/1978) (married Isabell Thacker)
(12/7/1887-4/21/1934) (married Minnie Orgill (Twin))
(10/24/1889-10/10/1966) (married Celestia Clarissa Buys)
(12/5/1893-9/8/1903)
(7/1/1896-7/1/1896)
(6/16/1897-xx/xx/xxxx) (married Lila Wright)
(11/2/1899-4/19/1967) (married Bessie Bell)

Second Wife and Children:
Ann Eliza Lee (Annie)
Rupert Lee McGuire
Alice Hilda McGuire


(1/11/1849-5/6/1908) (married 1/1/1881)
(3/12/1882-xx/xx/xxxx) (married Sara Middleton)
(5/17/1885-9/6/1886)
PHOTOS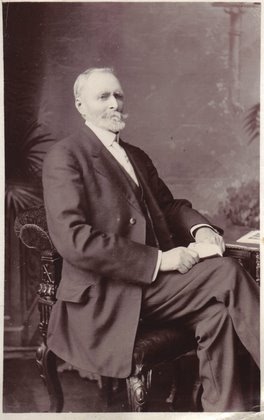 Patrick McGuire in 1910 in Ireland

Other photos on the web:
Patrick Henry McGuire website photo album



REFERENCES
Patrick Henry McGuire website
Entry from the LDS Biographical Encyclopedia
Pedigree Chart of Patrick Henry McGuire
Family Group Sheet of Patrick Henry & Sarah Elizabeth Parcell McGuire
Page from the 1880 Washington County Census showing the McGuire family
Pages 674 and 1059 of Pioneers and Prominent Men of Utah
Life Sketches of Ann Eliza Lee McGuire (later Wixom)
Obituary of Patrick Henry McGuire in the Wasatch Wave of June 13, 1924
Find-A-Grave entry for Patrick Henry McGuire