BIOGRAPHY
Miles Romney was born in Dalton-in-Furness, Lancashire (now in Cumbria), England on July 13, 1806.

In September 1837, Romney and his wife, Elizabeth, were baptized into the Church of Jesus Christ of Latter-day Saints. Soon after, they emigrated to the United States an join other Mormons in Nauvoo, Illinois, arriving on April 18, 1841. Miles labored on the Nauvoo emple from its commencement until its completing and was foreman of all woodwork.

The Romneys did not have the means to travel to Utah with the original pioneers. But after working in Iowa and Missouri, they managed to save enough to leave, and on March 18, 1850, they left for Utah by ox team, arriving on October 12, 1850. They camped on the temple block. Miles was foreman of the Public Work Shop from 1851 to 1856.

On February 22, 1856, Miles Romney and some others were called to go on a mission to England. He left Salt Lake City April 22, 1856 and didn't return to Utah until June 23, 1858.

On October 8 and 9, 1860, the Romney's were call to go settle in Dixie. They left in 1862, first to Grafton and then to St. George.

Miles Romney prepared the plans for the St. George Tabernacle. He was the master builder in charge of architecture and wood work for the Tabernacle. He designed and built the circular staircases for the Tabernacle and when Brigham Young came and said the balcony would have to be lowered, Miles was adamant that the staircase could not be shortened. The balcony was lowered, but the staircases remained with new stairs being added to go down to the new level of the balcony. Brigham Young said that he had finally met a man that was as stubborn as he was.

Miles was superintendent of all construction on the Temple and also superintendent of public works. He labored zealously in the erection of the Tabernacle and Temple. He, along with his son, Miles P. Romney, also built the back part of President Young's home in St. George.

At one time, Miles Romney was president of the 24th Quorum of Seventies.

On October 12, 1874, Miles was working on the Temple when he fell from a ladder breaking one of his arms and one of his legs. His injuries were very serious, but he recovered from this accident and resumed his activities on the Temple and Tabernacle.

Miles Romney died on May 3, 1877 in St. George from complications suffered from a [another?] fall while working on the St. George Temple.



FAMILY
Parents and Siblings:
George Romney Jr.
Sarah King Romney
Miles Romney
Xxxxxxx X. Xxxxxxxx
Xxxxxxx X. Xxxxxxxx
Xxxxxxx X. Xxxxxxxx
Xxxxxxx X. Xxxxxxxx

(xx/xx/xxxx-xx/xx/xxxx) (married xx/xx/xxxx)
(xx/xx/xxxx-xx/xx/xxxx)
(7/13/1806-5/3/1877) (married Elizabeth Gaskell)
(xx/xx/xxxx-xx/xx/xxxx) (married Xxxxxxx X. Xxxxxxxx)
(xx/xx/xxxx-xx/xx/xxxx) (married Xxxxxxx X. Xxxxxxxx)
(xx/xx/xxxx-xx/xx/xxxx) (married Xxxxxxx X. Xxxxxxxx)
(xx/xx/xxxx-xx/xx/xxxx) (married Xxxxxxx X. Xxxxxxxx)

Wife and Children:
Elizabeth Gaskell Romney
George Romney

Elizabeth Romney
Sarah Romney
Joseph Gaskell Romney

Ellen Romney
Miles Park Romney
Hiram Thomas Gaskell Romney
Mary Ann Romney
Jane Agnes Romney


(1/8/1809-10/11/1884) (married 11/16/1830)
(8/14/1831-2/2/1920) (married Jane Jamieson,
Vilate Ellen Douglas, and Margaret Ann Thomas)
(11/22/1833-12/14/1907) (married Thomas Taylor)
(2/22/1836-1/8/1909) (married Mahonri Moriancumer Cahoon)
(4/30/1838-3/6/1888) (married Christina McCauslin
and Mary Jane Wilson)
(5/12/1840-2/24/1826)
(8/18/1843-2/26/1904) (married five wives; see his page)
(6/19/1845-xx/xx/xxxx) (married Annie Wood)
(5/20/1848-3/14/1924) (married Robert Charles Lund)
(12/5/1850-5/19/1853)
PHOTOS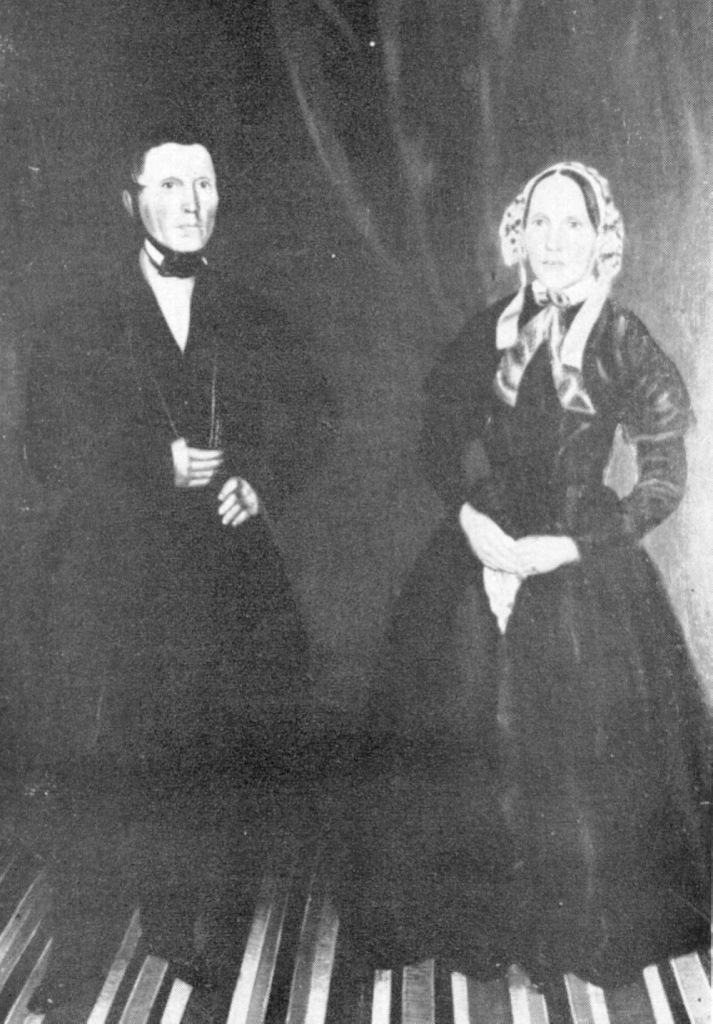 Miles & Elizabeth Gaskell Romney



REFERENCES
Wikipedia article on Miles Romney
Wikipedia article on the Romney family
Miles and Elizabeth Romney genealogy
Miles Romney's Bill of Work on the Court house, May 13, 1871
FamilySearch entry for Miles Romney
Find-A-Grave entry for Miles Romney
FamilySearch entry for Elizabeth Gaskell
Find-A-Grave entry for Elizabeth Gaskell Romney