BIOGRAPHY
George Washington Gill Averett was born January 20, 1824 in Maury County, Tennessee.

Nancy Ann Turnbeaugh was born on August 22, 1836 in Pleasant Hill, Pike County, Illinois.

George married Nancy on February 24, 1853 in Pleasant Hill, Illinois.

George and his family left the east (Missouri?) for Salt Lake in a good wagon on March 18, 1859. They reached Salt Lake City on September 3, 1859. After staying there short while, they joined George's brother in Manti, Utah. And then on to Gunnison, Utah.

George's brother, Elijah, was called to go to Dixie in 1861. George got the blessing to Orson Hyde and was allowed to join Elijah and Elisha.

George and his family settled in Washington City where he bought a lot for $20.00. His family lived on that lot in a wagon cover during the great storm of December 1861 and January 1862. Then he gathered some logs and stones and built a shanty on his property, which he thought was the first shanty built by the 1861 immigrants. He was issued a surveyors certificate for Lots 2 and 3 of Block 16 on the original 1863 survey. There he farmed and worked as a wagon master, surveyor, gunsmith, wheelright, blacksmith, and water master. He befriended the Indians and was named "George Fixum" because of the aid he rendered to them.

The water master job was thankless and very hard on George. So in the latter part of 1884, he traded his property in Washington for some in Arizona. He settled up his affairs and left for Arizona on March 27, 1885. When he go to Arizona his property there was nothing like it had been described. He only stayed 19 months and then returned to Washington City where he took over his old property and spent the rest of his life.

George died on January 14, 1902 and was buried in the Washington City Cemetery.

Nancy died on April 18, 1909 and was buried in the Washington City Cemetery.



FAMILY
George's Parents and Siblings:
John Averett
Jenette Hamilton Gill Averett
Mary Averett
Jennette Averett
Elijah Averett
Elisha Averett

Eliza Averett
Sarah Averett
Pyrenia Averett
John R. Averett
George Washington Gill Averett
Murray Alexander Averett
Patrick Gill Averett

(xx/xx/1780-xx/xx/1847) (married xx/xx/xxxx)
(xx/xx/1786-xx/xx/1855)
(2/28/1807-xx/xx/xxxx) (married Xxxxxxx X. Xxxxxxxx)
(1/20/1809-4/xx/1887) (married Xxxxxxx X. Xxxxxxxx)
(12/12/1810-9/2/1886) (married Xxxxxxx X. Xxxxxxxx)
(12/12/1810-10/22/1890) (married Dorcas Willis,
Sarah Jane Witt, and Margaret Stewart)
(7/12/1814-1/4/1853) (married Xxxxxxx X. Xxxxxxxx)
(10/29/1816-5/4/1870) (married Obed Webb)
(2/11/1819-4/20/1853) (married Elisha J. Harper)
(8/21/1821-xx/xx/xxxx) (married Rebecca Hubbard)
(1/20/1824-1/14/1902) (married Nancy Ann Turnbeaugh)
(8/20/1828-6/20/1875) (married Xxxxxxx X. Xxxxxxxx)
(5/3/1827-5/3/1827)

Nancy's Parents and Siblings:
John Cottel Turnbeaugh
Ruth McLain Turnbeaugh
James Robert Turnbaugh
Nancy Ann Turnbeaugh
Margaret Jane Turnbeaugh
William Madden Turnbeaugh
Melzenia Turnbeaugh
John Turnbaugh


(1/4/1816-9/5/1873) (married 1/xx/1834)
(9/14/1808-4/7/1852)
(8/8/1829-2/14/1914) (married Elizabeth Harpole)
(8/22/1836-4/18/1909) (married George Washington Gill Averett)
(5/12/1838-xx/xx/1898) (married Joseph Benedict Moore)
(6/15/1847-6/13/1915) (married Malissa Cherizade Averett)
(8/1/1854-3/17/1873)
(5/10/1861-3/30/1914) (married Nancy Margaret Averett)

George & Nancy's Family:
George Washington Gill Averett
Nancy Ann Turnbeaugh Averett
John William Riley Averett
Murray Elijah Averett
Erastus Elisha Averett
Eliza Melzina Averett
James Washington Averett
George Henry Averett
Nancy Margaret "Maggie" Averett
Joseph Smith Averett
Mary Emily Caroline Averett
Sonora Elizabeth Averett
Gilford Ray Averett


(1/20/1824-1/14/1902) (married 2/24/1853)
(8/22/1836-4/18/1909)
(xx/xx/1854-xx/xx/1917) (married Xxxxxxx X. Xxxxxxxx)
(xx/xx/1856-xx/xx/1938) (married Xxxxxxx X. Xxxxxxxx)
(9/12/1858-3/18/1859)
(6/25/1860-2/22/1935) (married Thomas Mirch Blazzard)
(xx/xx/1863-xx/xx1902) (married Xxxxxxx X. Xxxxxxxx)
(xx/xx/1865-xx/xx/1915) (married Xxxxxxx X. Xxxxxxxx)
(xx/xx/1868-xx/xx/1952) (married Xxxxxxx X. Turnbaugh)
(xx/xx/1870-xx/xx/1936) (married Xxxxxxx X. Xxxxxxxx)
(xx/xx/1872-xx/xx/1943) (married Xxxxxxx X. Maxwell)
(xx/xx/1875-xx/xx/1948) (married Xxxxxxx X. Averett)
(xx/xx/1881-xx/xx/1945) (married Xxxxxxx X. Xxxxxxxx)
PHOTOS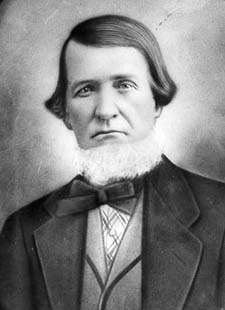 REFERENCES
Biography of John Averett
by George Washington Gill Averett

Averett Family History
by Jennet Averett and George Washington Gill Averett

Autobiography of George Washington Gill Averett, 1824-1902
Biographical Sketch of the Life and Adventures of George Washington Gill Averett

George Washington Gill Averett in Mormon Pioneer Overland Travel
Also see Averett, George Washington Gill, Autobiography [ca. 1894], 171-72 in Mormon Pioneer Overland Travel

George W. G. Averett, 1824-1902
in Washington City "MONUMENT PLAZA" May 10 2003
Pages 16-19
Also see the sections on George's brothers, Elisha on Pages 47-48 and Elijah on Pages 49-50.

Find-A-Grave entry for George Washington Gill Averett

Find-A-Grave entry for Nancy Ann Turnbaugh Averett

Geni entry for George Washington Gil Averett