BIOGRAPHY
George Henry Crosby was born in Clinton, Kennebec County, Maine October 25, 1846.

George came to Utah with his parents, arriving September 20, 1847. They came down to St George in 1861.

Crosby was a deputy sheriff in Washington County under Sheriff David H. Cannon. He was elected sheriff in August of 1867 and took the oath of office sometime later after reaching his 21st birthday. He served as sheriff until August of 1869.

In 1869, Brother Crosby was called as the first bishop of Hebron and served in that capacity for 8 years.

Then Pres. Erastus Snow called him to be bishop of the Leeds Ward where he served from January of 1878 to 1886. Pres. Snow said he needed a strong man to lead a ward that included the mining town of Silver Reef.

From 1886 to 1915, Crosby filled a number of pioneering and church assignments at various places in Arizona and Utah.

George returned to Dixie in the fall of 1915 where he worked in the temple and spent the rest of his life.

George died of heart failure at his home in St. George on October 8, 1916. His health had been failing for some time. Funeral services were held on October 13 in the St. George Tabernacle and he was buried in Plot A_D_45_6_EH of the St. George City Cemetery.



FAMILY
Parents and Siblings:
Jesse Wentworth Crosby
Hannah Elida Baldwin Crosby
George Henry Crosby
Jesse Wentworth Crosby Jr.

Samuel Obed Crosby
Hannah Elida Crosby
Thankful Amelia Crosby
Joseph Baldwin Crosby
Mary Elizabeth Crosby
Hannah Ann Crosby
Joshua Alma Crosby

(11/25/1820-6/11/1893) (married 11/23/1845)
(3/4/1820-5/2/1907)
(10/25/1846-10/10/1916) (married as shown below)
(6/22/1848-2/24/1915) (married Sarah Pauline Clark,
Anna Maria Davis, Sarah Francis Jacobs, and Sarah Ann Meeks)
(8/26/1849-3/24/1903) (married Hannah Adelia Bunker)
(12/30/1854-9/20/1919) (married Erastus Beamon Snow)
(4/30/1856-5/23/1905) (married Allen Frost II)
(12/15/1857-9/7/1896) (married Emily Maude Johnson)
(9/27/1859-11/22/1860)
(6/22/1861-10/20/1862)
(1/29/1863-3/18/1909) (married Lena Albertina Mathis)

First Wife and Children:
Sarah Hannah Brown Crosby
Benjamin Brown Crosby
George Henry Crosby, Jr.
William Hanson Crosby
Lorenzo John Crosby
Sarah Amelia Crosby
Jesse Edward Crosby
John Alma Crosby
Charles Wilkinson Crosby
Albert Walker Crosby
Heleman Crosby
Frances Crosby
Frank Crosby


(8/18/1851-7/30/1932) (married 4/5/1869)
(12/24/1869-2/23/1945) (married Waity Ann Slade)
(2/29/1872-1/18/1938) (married Martha J. Miller)
(1/5/1874-5/29/1891)
(2/23/1875-2/20/1904) (married Mary Ann Wiltbank)
(3/18/1878-9/29/1950) (married William Ellis Wiltbank)
(3/31/1880-3/31/1931) (married Ruth Natalie Crause)
(8/9/1882-7/4/1918) (married Alice G. Lesueur)
(10/8/1884-10/7/1947) (married Ida Miles)
(11/25/1886-11/30/1983) (married Carrie Belle Rencher)
(3/31/1889-10/2/1889)
(6/30/1891-7/4/1891)
(6/30/1891-7/5/1891)

Second Wife and Children:
Amelia Leany Crosby
Frederick Crosby
Elizabeth Crosby


(2/21/1858-3/2/1913) (married 5/2/1885)
(9/21/1888-11/15/1954) (married Effie Heap)
(6/19/1893-12/2/1916) (married William Clayton Partridge)

Third Wife:
Mary Etta Foster Lake


(7/4/1862-8/14/1918) (married 1/7/1916)
PHOTOS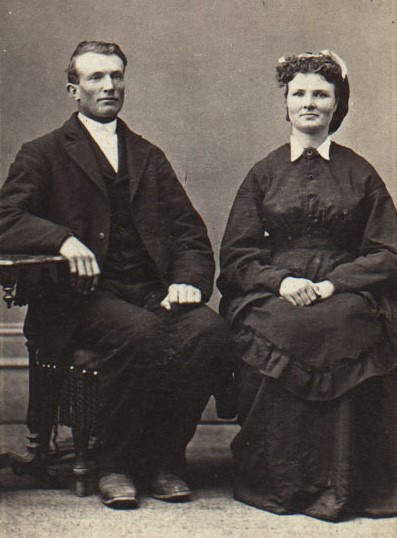 George and Sarah



REFERENCES
History of George Henry Crosby, Sr.

The George Henry Crosby family
by Della Crosby Smith
Austin, Texas: Historical Publications, 1998
306 pp
Also available on microfilm
Includes the Brown, Leany, Heap, Snow, Wiltbank and related families.

George Henry Crosby, Sr.
Annals of Wyoming, Volume 11, Number 3, July 1939, Page 146

George Henry Crosby
The Deseret News, Saturday, March 31, 1923, Section 3, Page 8

Bob Moon & Patricia Anderson's Family History entry for George Henry Crosby

FamilyCentral entry for George Henry Crosby & Amelia Leany

Ancestry.com entry for George Henry Crosby

A Crosby Family Timeline

Find-A-Grave entry for George Henry Crosby

Find-A-Grave entry for Sarah Hannah Brown

Find-A-Grave entry for Sarah Hannah Brown Crosby

Find-A-Grave entry for Amelia Leany Crosby

Find-A-Grave entry for Mary Etta Foster Lake

History of Hannah Elida Baldwin