BIOGRAPHY
Evan Gardner Whitehead was born in St. George on October 29, 1918.

Evan married Mae Gubler from Santa Clara on September 14, 1940 and they were sealed in the St. George Temple on July 11, 1942.

Whitehead was a veteran of World War II and Korea.

He was an investigator with the St. George Police Department for 8 years and a volunteer firefighter in St. George.

Evan Whitehead was sheriff of Washington County from January 1963 to December 1978.

Whitehead died June 12, 2008 in St. George at the age of 89. He was buried on June 17 in Plot B-8-21-5 of the St. George City Cemetery.



FAMILY
Parents and Siblings:
Chester Arthur Whitehead
Jessie C. Gardner Whitehead
Evan Gardner Whitehead
Xxxxxxx X. Xxxxxxxx
Xxxxxxx X. Xxxxxxxx

(12/31/1889-9/26/1928) (married xx/xx/xxxx)
(1/21/1886-6/29/1954)
(10/29/1918-6/12/2008) (married Mae Gubler)
(xx/xx/xxxx-xx/xx/xxxx) (married Xxxxxxx X. Xxxxxxxx)
(xx/xx/xxxx-xx/xx/xxxx) (married Xxxxxxx X. Xxxxxxxx)

Wife and Children:
Mae Gubler Whitehead
Xxxxxxx X. Xxxxxxxx
Xxxxxxx X. Xxxxxxxx
Xxxxxxx X. Xxxxxxxx
Xxxxxxx X. Xxxxxxxx


(6/9/1918-10/30/2004) (married 9/14/1940)
(xx/xx/xxxx-xx/xx/xxxx) (married Xxxxxxx X. Xxxxxxxx)
(xx/xx/xxxx-xx/xx/xxxx) (married Xxxxxxx X. Xxxxxxxx)
(xx/xx/xxxx-xx/xx/xxxx) (married Xxxxxxx X. Xxxxxxxx)
(xx/xx/xxxx-xx/xx/xxxx) (married Xxxxxxx X. Xxxxxxxx)
PHOTOS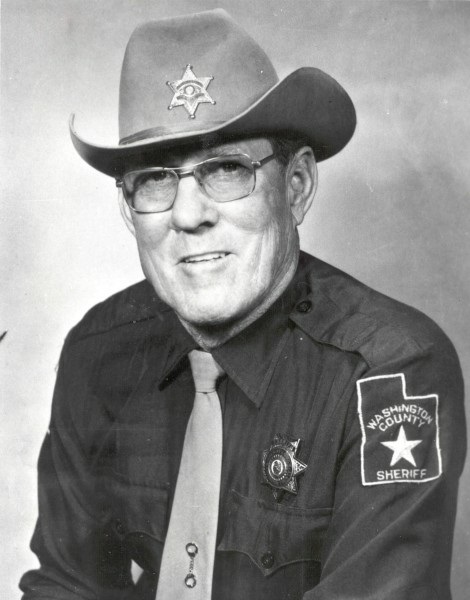 REFERENCES
Southern Utah Memories: Evan Whitehead investigated eight airplane crashes while sheriff of Washington County,
by Loren R. Webb, September 8, 2013

Former Dixie sheriff dies
Obituary in the Deseret News, June 18, 2008

Find-A-Grave entry for Evan Gardner Whitehead

BillionGraves entry for Evan Gardner Whitehead

Names In Stone entry for Evan Gardner Whitehead

Find-A-Grave entry for Chester Arthur Whitehead