BIOGRAPHY
Alma Millet was born September 22, 1834 in Kirtland, Lake County, Ohio.

In 1837, his family moved to Erneston, Ontario, Canada where his mother died in 1840. In 1843, the family moved to Nauvoo, Illinois, where the father worked as a mason at the Nauvoo Temple. But three years later in 1846, they were driven out with the rest of the Latter-day Saints.

The family crossed the plains to the Great Salt Lake Valley with the Stephen Markham Company in 1850. Alma walked every step of the way barefoot. After the family arrived in Salt Lake, Alma helped his father build a barn for President Brigham Young. Alma participated in the Walker War in Sanpete County and in the resistance to the Johnston's Army invasion of Utah. He moved from Manti to Moroni in 1859 and back to Manti in 1860.

Alma was called to go down to Dixie in 1861. He settled in Shunesburg, helping to start that new settlement.

Around 1868, Alma and his father were called to take charge of the co-op cattle herds at Desert Springs, Nevada where he again helped to start a new settlement.

After being released from their mission in Spring Valley, Nevada, in 1873, Alma and his father moved their families to Scipio, Millard Co., Utah. There, Alma took care of his father until his father's death in 1874.

Soon after the death of his father, Brigham Young sent Alma back to Shunesburg where he remained until 1883.

In 1883, Alma moved to Mesa City, Arizona, a town he had visited in 1880. He took his horses and a herd of Guernsey cattle. They camped on the sandy banks of the Virgin River where they put iron shoes on the horses and cattle. When they reached the Colorado River at Lee's Ferry, it was running high and red with mud and silt. The price to ferry across all the wagons and animals was prohibitive, so after a family council they decided to ferry the wagons and swim the animals across.

But soon after arriving in Mesa City, Alma again moved and this time down to the Mormon colonies in Mexico.

Alma died of pneumonia on April 21, 1886 in Corralitos, Chihuahua, Mexico. He was buried in the Colonia Juarez Cemetery, Colonia Juarez, Chihuahua, Mexico.



FAMILY
Parents and Siblings:
Artemus Millet Sr.
Susanna Peters Millet
Joseph Millett Sr.
Alma Millet Sr.
Artemus Millet Jr.
William Millet

(9/11/1790-11/19/1874) (married 2/15/1832)
(10/19/1804-10/3/1840)
(12/22/1832-10/31/1911) (married Sarah Elizabeth Glines)
(9/22/1834-4/21/1886) (married as shown below)
(6/14/1836-10/30/1903) (married Nancy Jane Beal)
(xx/xx/xxxx-xx/xx/xxxx) (married Xxxxxxx X. Xxxxxxxx)

First Wife and Children:
Harriett Sylvania Beal Millet
Clarissa Ann Millet
Alma Millet Jr.
Artimus Millet


(8/13/1837-8/26/1901) (married xx/xx/1855)
(3/10/1856-2/23/1920) (married William Thomas Riggs)
(6/3/1858-1/11/1938) (married Mary Ann Millett)
(7/7/1860-11/14/1915) (married Margaret Lovina Brundage)

Second Wife and Children:
Eunice Amy Beal Millet
Eunice Emeline Millet
William Beal Millet
Hyrum Grannis Millet
Perry Millet
Lucy Susanah Millet
Oscar Alvin Millet
Rosella Jane Millet


(3/6/1843-11/16/1926) (married 9/27/1862)
(7/23/1863-xx/xx/1892) (married Nathan Abijah Brundage)
(4/17/1865-3/7/1940) (married Xxxxxxx X. Xxxxxxxx)
(xx/xx/1869-xx/xx/1886)
(2/27/1872-8/9/1942) (married Loretta Susanna Williams)
(xx/xx/1874-xx/xx/1959) (married Xxxxxxx X. Xxxxxxxx)
(xx/xx/1880-xx/xx/1903) (married Xxxxxxx X. Xxxxxxxx)
(xx/xx/1885-xx/xx/1885)
PHOTOS
| | |
| --- | --- |
| Alma | Alma |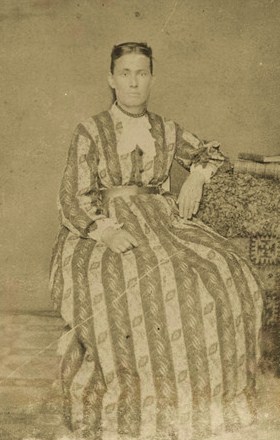 Harriett

Other photos on the web:
Millet children (on the right) at the Spring Valley School in Desert Springs, Nevada
People crossing the Colorado River at Lee's Ferry



REFERENCES
History of Alma Millett Sr
by George F. Millet

Alma Millett Sr: The Home Builder
by Mary Millett Davis

History of Alma and Artemus Millett

Alma Millett obituary
Deseret News, May 26, 1886

Alma Millett: A Worthy Man Who Died in Exile Gone to Rest
Deseret Evening News, May 29, 1886

Find-A-Grave entry for Alma Millet Sr.

Find-A-Grave entry for Eunice Amy Beal Millett

Find-A-Grave entry for Harriett Sylvania Beal Millett