LOCATION
231 West 100 North
St. George, Utah
Telephone 500 in the 1954 telephone book (Twin Oaks Motel)
Telephone ORchard 3-3551 in the 1958 telephone book (Twin Oaks Motel)
Telephone ORchard 3-3551 in the 1961 telephone book (Twin Oaks Motel)
Telephone 673-3551 in the 1972 telephone book (Oasis Motel)

Plat A, Block 32, Lot 2, on the old pioneer map of St. George.

37° 6' 36.5" North Latitude, 113° 35' 17.6" West Longitude
2,760 feet MSL



HISTORY
Many of the cast of The Conqueror stayed here in 1954 or 1955.

The Twin Oaks Motel became the Oasis Motel sometime between 1961 and 1972
with Blane & Elane Sykes as proprietors.

But the smaller motels, like the Oasis, had trouble competing with the larger ones.



PHOTOS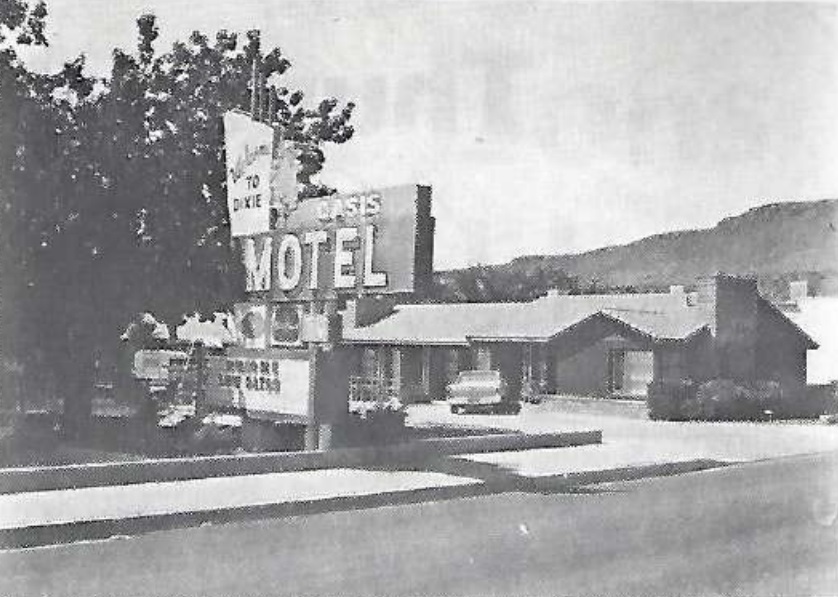 Front of the Oasis Motel



REFERENCES
See the Oasis Motel advertisement in the 1978 Dixie Roundup program.

Early Roadside Motels and Motor Courts of St. George
by Lisa Michele Church
Utah Historical Quarterly, Volume 80, Number 1 (Winter 2012)
See Page 42 for a brief reference.