LOCATION
2?? East 100 South
St. George, UT 84770

On the southwest corner of 100 South and 300 East.
Just west of the current location of the St. George Sunbowl.



DESCRIPTION
There may have been a race track here at one time.

The Grandstand on the north side of the Rodeo Grounds is still seen in the 1950s photos below. It was probably 150 to 200 feet from front (south side) to the rear (north/street side). The front was screened in. There were 15 to 20 rows of seats (similar to the wooden planks in old football stadiums). The roof was completely covered; the stands were open on both sides. The door was at the rear near the street. The city or someone used to store galvanized piping and similar supplies under the stands.



HISTORY
The Dixie Roundup each September used to be held at the old Rodeo Grounds.



PHOTOS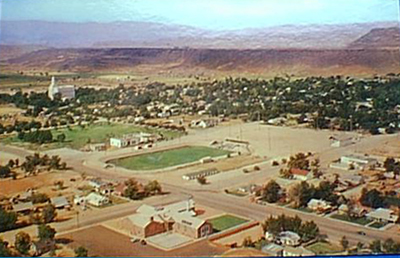 WCHS-00877 Rodeo Grounds (vacant), Grandstand (still there), and the Surrounding Area

Other WCHS photos:
WCHS-01362 Photo of the Rodeo Grounds (vacant), the Grandstand (still there), and the Surrounding Area



REFERENCES
TBD