LOCATION
263 N. Toquerville Blvd.
Toquerville, UT 84774

37° 15' 20" North Latitude, 113° 17' 5" West Longitude



DESCRIPTION
The John Steele House, built c. 1862, is a one-story, double-parlor vernacular house with a gable roof and stuccoed adobe exterior walls. Minor alterations have been made over the years, but overall the house maintains a high degree of its original integrity on both the interior and exterior.

The house has a roughly symmetrical facade composed of three windows and two doors. A full-width front porch that shows up in a c.1900 photograph is no longer there; it is unknown whether or not that porch was original. The original six-over-six double-hung windows are intact, as are the original front doors. There is an early adobe lean-to addition on the left third of the rear and a frame lean-to addition (c. 1930s?) on the right two-thirds. The exterior adobe walls were probably stuccoed in the early twentieth century.

The interior of the original house is virtually unaltered. It consists of three rooms with both front and rear doors opening into the center and southern rooms. There is a large fireplace in the center room, which served as the kitchen. The one-room adobe addition on the rear has had a bathroom built in it in recent years. The ceiling height, door openings, and.woodwork on the interior are all intact.



HISTORY
Constructed c. 1862, this house is historically significant for its association with John Steele, a prominent figure in local government affairs in Toquerville and in Iron and Kane (later Washington) counties. Steele, a colonizer sent by Mormon church officials to help settle this region of southern Utah, served as Iron County judge and recorder and as Parowan town marshall and mayor during the 1850s. After moving to the new settlement of Toquerville in 1861, he filled a variety of positions in the county and town governments, including justice of the peace, postmaster, county surveyor, county assessor and collector. This house, the only one known to be associated with John Steele, served as his home for over 40 years. The Steele House is also architecturally significant as a variant of the double-parlor house, an extremely rare three-room house type. Unlike other double-parlor houses identified in Utah, this house has two doors on the facade, giving it the appearance of a double-cell house on the exterior.

John Steele was born in Ireland in 1821 and, after joining the Mormon church, came to the U.S. in 1845 to "gather with the Saints" at Nauvoo, Illinois. He was accompanied by his wife, Catherine Campbell Steele (1816-1891), whom he had married in 1840. After being forced to leave Nauvoo, the Mormons began settling in Utah in 1847, and the Steeles were among the first groups of pioneers in the Salt Lake Valley.

John was called by church officials in 1850 to help establish an iron industry in southwestern Utah. In 1851, he was chosen to serve as town marshall of Parowan, the mother colony of the "Iron Mission," and in 1853 he was selected as mayor. He also filled church and county government positions, serving as a counselor in the Iron Stake presidency of the church, and as judge and recorder of Iron County. In 1855 he was again called by church leaders to help establish a fort at Las Vegas, Nevada, for the purpose of protecting California travelers from the Indians. He was there for about two years before returning to Parowan.

In 1861, with approval from Brigham Young, John Steele left Parowan due to "grasshoppers and other causes" and settled in Toquerville, approximately 55 miles to the southwest. He moved his family there in the spring of 1862, apparently after completing this adobe house. In Toquerville, Steele also served in a variety of local government positions, including postmaster for 15 years, justice of the peace (1869~1890s), county surveyor (1873), and county assessor and collector (1874-75). His church service included a mission among the Navajo and Moqui Indians in 1862-63 and a proselyting mission to England in 1877-78.

John Steele was a boot and shoe maker by trade, but he also engaged in a number of other activities. He is listed in the census records as a farmer in 1870 and as a doctor and surveyor in 1880. His medical skills were based on his knowledge of herbs and his many years of experience assisting the sick and wounded. He carried on his boot and shoemaking business in a one-room cabin south of his house (now demolished). John was also experienced at making and laying adobe brick, having helped construct the first fort in Salt Lake City and his own house and others there during the first years of settlement. It is likely that he constructed this adobe house in Toquerville as well.

Catherine and John Steele lived in this house until their deaths in 1891 and 1903, respectively. The census records from 1870 to 1900 show their son, John Alma Steele, living with them. Alma, born in 1853, was listed variously as a farm worker, wood man, miner, and day laborer. In 1880, the Steeles shared their home with Samuel Carson, a teamster, his wife, Frances, and Joshua Bowyer, a farm hand. This was during the boom days of Silver Reef, a nearby mining town. Toquerville was one of the towns nearest Silver Reef, which was an important market for agricultural products from Toquerville.

The three-room, double-parlor configuration of the Steele house is very unusual in Utah, where single-cell, temple-form, and two-room hall-parlor houses are the predominant nineteenth-century vernacular house types. The distinguishing characteristic of the double-parlor house is that it is essentially a hall-parlor house with an extra "parlor" added to one end. Hall-parlor houses have a symmetrical, usually three-bay, facade with a center door that opens into the larger of the two rooms on the interior. On double-parlor houses, the symmetry of the facade is thrown off by the introduction of an another window for the additional room. The Steele House is a variant of that form because it also has an additional door on the facade, giving it five bays instead of the expected four. This gives it the exterior appearance of a double-cell house (two rooms of equal size), belying the three-room arrangement on the interior.

The double-parlor house is similar to the Scandinavian-American pair-house, another three-room vernacular house, but it is more rare. There are over 60 pair-houses that have been identified in various locations throughout the state, while only a handful of double-parlor houses are known to exist. Though the floor plans of pair-houses and double-cell houses are sometimes similar, their facades are different. Pair-houses usually have a 5-bay, symmetrical facade with a center door, while double-parlor houses generally have an asymmetrical facade with four bays.

The Steele House is one of the oldest of the approximately 100 buildings in the Toquerville. It was constructed within the first four years of settlement when many of the houses were being built of log. There are approximately a dozen houses in the community that date from the first decade or two of settlement, but few of them are as old and as well preserved as the Steele House.

Put on the National Register of Historic Places (#1988000401) on April 7, 1988.



BIOGRAPHY
John Steele
Click here
PHOTOS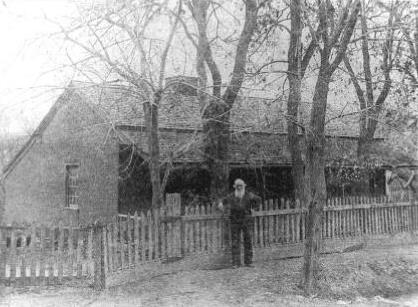 John Steele in front of the home (about 1900)


| | |
| --- | --- |
| South and east/front sides of the home (Roger Roper, June 1987) | North and east/front sides of the home (Roger Roper, June 1987) |
Other photos on the web:
Photos from the National Register of Historic Places nomination form
REFERENCES
Self-Guided Walking Tour of Toquerville, Utah
by Wes Larsen
See Pages 22-23 for information on the John Steele Home

National Register of Historic Places, Inventory - Nomination Form