LOCATION
165 North 100 West
St. George, UT 84770-2803



HISTORY
This home was built in 1875 by Anthony W. Ivins.

In 1894, when the church called him to assist in its colonizing project in Mexico, he sold his home to Thomas Gardner.

In 1934, the home passed into the hands of Gardner's son, Wayne, and his wife, Bessie.

In more than a hundred years, it has been owned by only two families.

The orginial settlers had learned that the alkali in the soil would quickly dissolve foundations made of sandstone so this house had a wide foundation and a basement of black basalt from the Black Ridge. The eight rooms on the ground floor were co-built of double thickness adobe; when the Gardners were doing some remodeling, they found that part of the work was done with a thickness of four adobes. The original lumber and flooring are still in the northern and southern parts of the building, as are the square nails used when the house was built. The original house had a front porch and a rear sleeping deck, both of which have been removed. When the Gardners dispensed with the front porch, they used the extended foundation to enlarge the living room.

One of the distinctive features of the home is its setting. Brigham Young insisted that local homes be built close to the street so that there would be room in the rear for vegetable gardens. For some unknown reason, when Ivins built his home on the south side of his father's lot, he built it deep in the lot. This makes it possible for Bessie to maintain the front flower garden which adds so much to the beauty of the place.



BIOGRAPHY
Anthony W. Ivins, click here.

Thomas Gardner TBD

Wayne Gardner was the son of Thomas Gardner.

Bessie Gardner was the wife of Wayne Gardner.



PHOTOS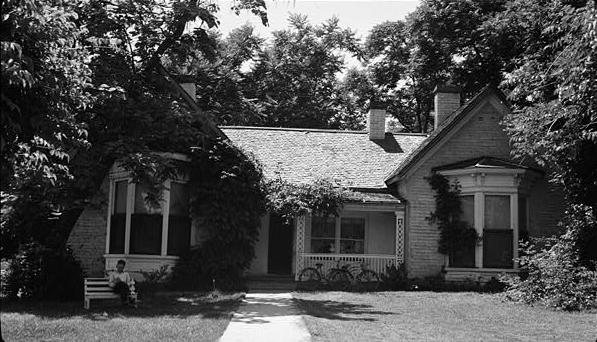 1940 photograph by Delos H. Smith

WCHS photos:
WCHS-00562 Jon Bowcutt sketch of the Anthony Ivins/Bessie Gardner Home



REFERENCES
Historical Buildings of Washington County (Volume 2), pp. 16-17.

Landmark and Historic Sites: City of St. George
First Edition, January 2, 2009, pp. 4-1 through 4-4
Compiled by the St. George Community Development Department

Landmark and Historic Sites: Informational Guide of Historical Sites within the City of St. George
Second Edition, Revised 2011, p. 36
Compiled by the St. George Community Development Department