The Pine Valley Mountains are a small range of mountains covering a 120 square mile area including the 10,365 foot high Pine Valley Mountain.



LOCATION
This is a major geographical feature right in the center of Washington County and surrounded (clockwise) by the communities of
St. George,
Santa Clara,
Dammeron Valley,
Central,
Enterprise,
New Harmony,
Pinto,
Leeds,
Washington.

Features of the Pine Valley Mountains include:
Big Point
Burger Peak
Flat Top Mountain
Mt. Baldy
Pine Valley
Pine Valley Mountain
Signal Peak
Timber Mountain

The highest point is Signal Peak on the south end of the range.
37° 19' 10.91" North Latitude, 113° 29' 31.31" West Longitude
10,365 feet (3,159 meters) MSL



HISTORY
The Pine Valley Mountains are also home to the massive Pine Valley Laccolith, a strange dome-like rock outcropping formed by a heavy pressure of magma under sedimentary rock. The isolation of this desert range has made it a haven to threatened species like the zebra-tailed lizard and even unique subspecies, such as the Uinta chipmunk.

The pioneers used Pine Valley Mountain as a source of water, lumber, and a place where they could escape the heat of the lower elevation country.



PHOTOS


Pine Valley Mountains as seen from the east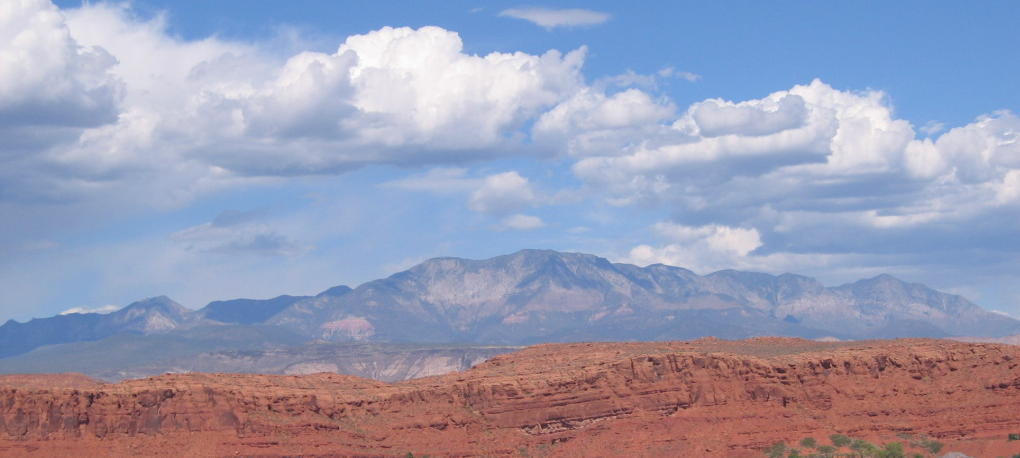 Pine Valley Mountains as seen from St. George

Other photos on the web:
Miscellaneous images



REFERENCES
TBD