LOCATION
The Dixie Springs Subdivision is
just north of Sand Hollow Reservoir
and south of State Route 9 between I-15 and Hurricane.

37° 8' North Latitude, 113° 23' West Longitude
2,975 feet (907 meters) MSL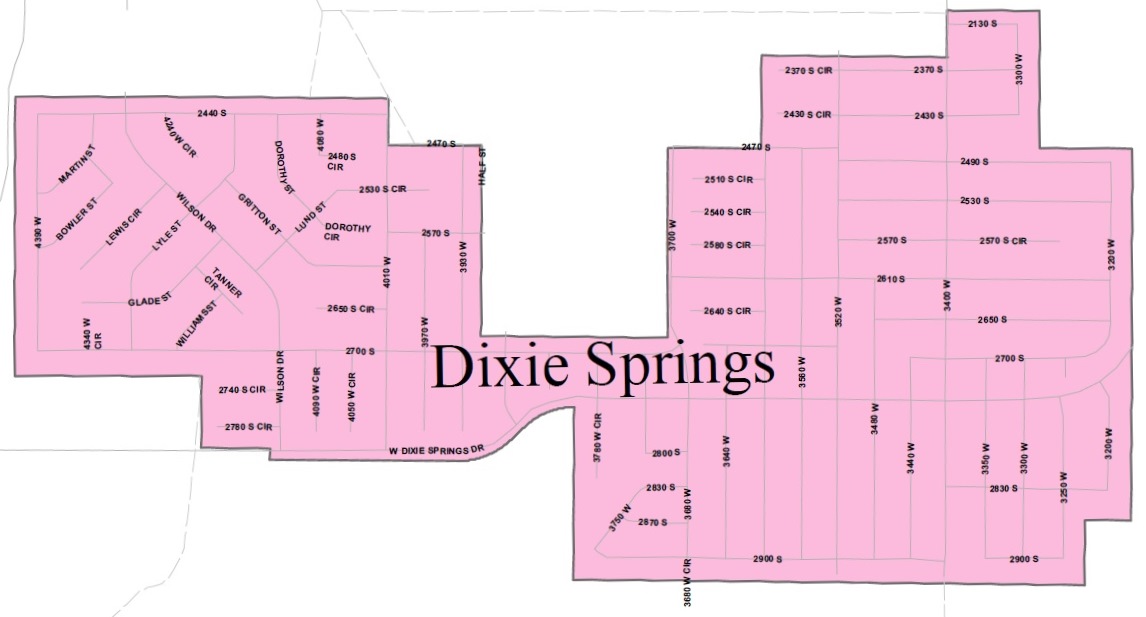 DESCRIPTION
Dixie Springs is a 1,390 lot residential subdivision that is divided into seven plats -- Plats A, B, C, D, E, F and G. The lots are approximately one quarter acre (10,000 square feet or more) in size.

Dixie Springs, Inc.
1435 Iron Port Drive
South Jordan, UT 84095
(801)302-1341 office
(801)230-9903 cell
http://www.dixiesprings.net
Dixie Springs was established by Clarence L. Jolley, the President, Chief Executive Officer, and major lot owner in the subdivision. He is responsible for the development of the project, financing, marketing, and sales department. He is assisted by Dorothy Jolley who is the Professional Communicator and Vice President, Online Public Relations Officer, Web-master, and Real Estate Agent. This office is the liaison between public entities, i.e. Washington County, Hurricane City, Ashcreek Sewer District, Washington County Water Conservancy District, Dixie Escalante/REA, Creamer and Noble Engineering, and various legal and financing companies.



HISTORY
Dixie Springs was begun when old farmland was purchase and a subdivision was recorded in 1967. At that time there were plans to put a dam on the Virgin River which would have made this lakeside property. But when those plans for a dam fell through, the value of the property dropped dramatically and plans for the subdivision faltered.

The property was taken over by Clarence L. Jolley who had lended money for the project with the land as collateral. He revised plans for the subdivision which was eventually developed in two phases, with 542 lots in Phase I and 848 lots in Phase II.

The amended plat for the first phase was approved by Washington County in 1997. A Special Improvement District (SID) was organized in 1998 by Washington County to provide all the services needed such as water, power, sewer, storm drainage, streets, curb, and gutters, etc. for the subdivision. A bond was issued by the SID to handle the financing of all improvements. This large property is owned by several lot owners. Some of the lot owners plan to have their own homes built on their lots and some have built homes in Phase I, and many will build first or second homes to escape the cold northern winters.

An area which includes Dixie Springs has since been annexed by Hurricane.

Phase I is comprised of Plats A, B, and G and the infrastructure is complete and the construction of homes is currently underway. Beautiful homes are built and some in the process of being built in the price range from $200,000 to $400,000.

Phase II is comprised of Plats C, D, E and F, and investment bonds closed on 10 January 2012, and the bid for the infrastructure has been awarded to Interstate Rock in Hurricane City. The Infrastructure will be built out within 14 months.



PHOTOS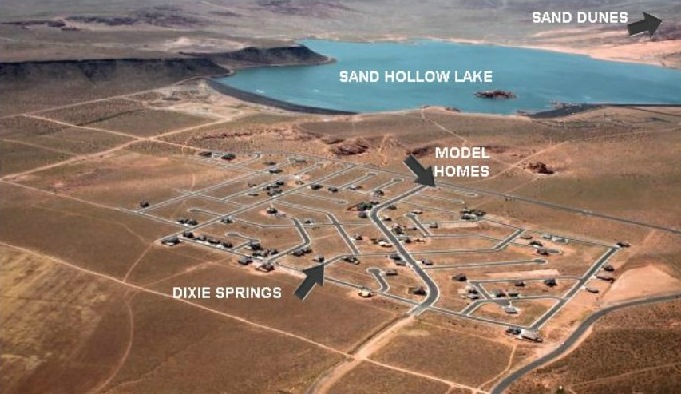 REFERENCES
Developer Website

Hurricane development a long time coming
Article in The Spectrum, by David DeMille, April 22, 2013