HISTORY
From about 1950 to 1951, Peach Days was the defacto Washington County Fair.

By the fall of 1950, Peach Days were having severe financial difficulties. A meeting was held in the county courthouse in St. George with about 60 people in attendance, including two representatives from each town in the county. A plea to the county commissioners for financial aide was made. The county agreed to subsidize this important event with the condition that they change the name back from Peach Days to the Washington County Fair. Thus in 1951, the original Peach Days became the Washington County Fair with Hurricane as the nucleus for the fair.

As the county fairs continued to grow and expand, the venues got spread out across Hurricane. When the new Hurricane High School was finished, the Washington County School Board allowed it and the Elementary School to be used for the county fairs.

In 1993, Hurricane High School was going through some extensive building additions and so could not accommodate the fair. The Hurricane Middle School was used as the location for the fair in 1993, 1994, 1995, and 1996.

In late 1995, the county leased 180 acres of land in the "Purgatory Flat" area from the Bureau of Land Management (BLM) for recreation and public purposes. Grading of the site began in early in 1996. They acquired an equestrian facility that was being dismantled and offered for sale in Kansas and they used that in the construction of the new permanent fair grounds site. Even though it wasn't completely finished, the Washington County Fair moved to it's new home in August of 1997.



PHOTOS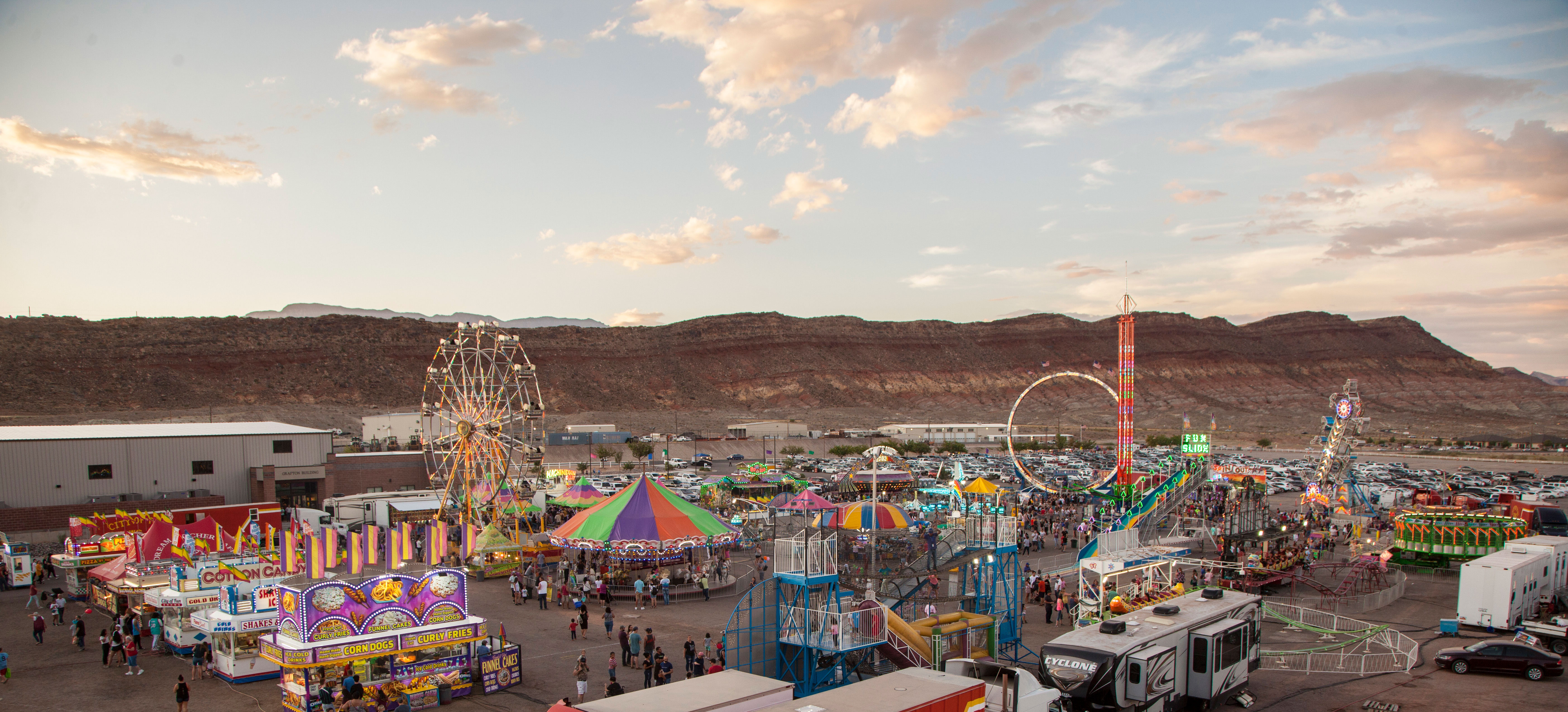 ANNUAL EVENTS
1860 at the John D. Lee's Mansion in Washington
1865 in the St. George Hall
1876 in the new St. George Tabernacle
1907
1908


1951
1952
1953
1954
1955
1956
1957
1958
1959
1960
1961
1962
1963
1964
1965
1966
1967
1968
1969
1970

1991
1992
1993
1994
1995
1996
1997
1998
1999
2000
2001
2002
2003
2004
2005
2006
2007
2008
2009
2010

8/10-13/2011
8/8-11/2012
8/7-10/2013
8/6-9/2014
8/12-15/2015
8/10-13/2016
8/9-12/2017
8/8-11/2018
8/7-10/2019
8/4-8/2020
4/14-17/2021
REFERENCES
History of the Washington County Fair

Our County Fair
A poem by Teresa Houston Graff, 1985

Washington County Fair Queens, 1951-1998

Never Forgotten Fair Memories

Public Forum opinion articles about queen dress standards

Washington County Fair board to hold open forum town hall
Article in the St. George News, March 8, 2019

Washington County Fair returns with new events, focus on county heritage
Article by Mori Kessler, St. George News, August 1, 2019

Washington County Fair to kick off with parade honoring history, celebrating community
Article by Alexa Morgan, St. George News, July 31, 2020

Washington County Fair moves to April to beat the heat
Article by Mori Kessler, St. George News, January 12, 2021