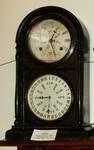 Article #840 - Located in the Room 5 (Middle Room) of the Museum on the South Wall

This Eight-Day Clock with two faces was made by the Hostetter family, pioneers in the manufacture of the "eight-day" clock. Clock movements were produced in this factory, and from 1788 Jacob Hostetter was listed as a clockmaker.

The upper face tells the hour and the day of the week. The lower dial tells the month and the day of the month. There are two places to wind the clock, one for each dial.

This clock was owned by Henry Bigler who was at Sutter's Mill when gold was discovered in California in 1848. He served with the Mormon Battalion and had stayed the winter in California before returning to Utah.

Contributed by Jackie Frandsen, Green Valley Camp, Washington West Company.