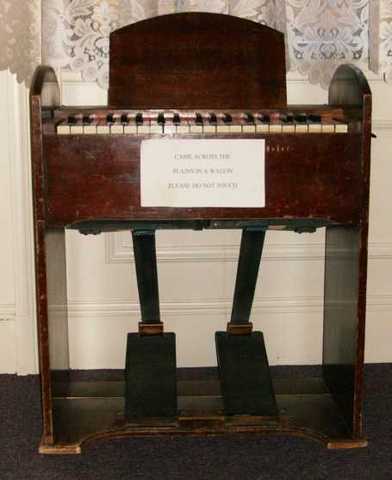 Article #1606 - Located in the Room 5 of the Museum, Northwest Corner by Silk Cabinet

This organ belonged to William James Fazier McAllister who was sent to St. George by Brigham Young to be in charge of music. He had perfect pitch and claimed the he could play any instrument that could put his hand on. He also participated in many presentations in the Salt Lake Theater. The organ came into his possession in St. George and he played at many dances and other musical events throughout his life in the St. George area. He was usually paid in produce for his playing. The organ is small enough that it could be carried on his back. It was one of several instruments, along with his beautiful tenor voice, that he used to uplift and encourage the Saints in Southern Utah.

Contributed by Jackie Frandsen, Green Valley Camp, Washington West Company.