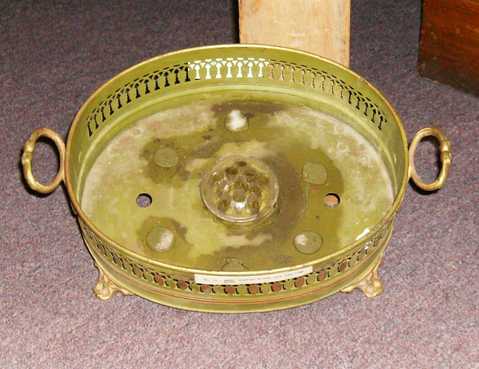 Article #2020 - Located in the Room 4 (South Middle Room) of the Museum in the White Cupboard on the East Wall

This is the bottom part of a chafing dish used in the John Pymm Hotel in early St. George.

Jane Moss tells how it came to be in her possession. Her young son was playing in the desert of eastern St. George and found this. He tied a rope around it and used it for a wagon to play with. Years later her husband cleaned and painted it and she used it for a card dish in her home. More years passed and Mary Pymm, a descendent of John, came to visit. Jane tells us that Mary recognized it. She had always wondered what had happened to the dish. She remembered seeing it. Jane tried to return it to Mary, but Mary refused it.

Contributed by Charlotte Tullis, Cotton Mission Camp, Washington Company.