Hardcover, 9.3 x 6.5 x 1.1 inches, 334 pages
Published by The Arthur H. Clark Company
First Edition (April 21, 2004)
ISBN-10: 0870623273
ISBN-13: 978-0870623271



DESCRIPTION
No group of people was more important than the Mormons to the settlement of the American West, but most histories are written of the more glamorous Mormon leaders, not of the plain folks who lived the events that formed the broader history. Gathering in Harmony is a chronicle of ordinary people such as Allen Taylor, John H. Redd, George Prince, and James H. Imlay, whose lives collectively represent a cross-section of early Mormon history and the pioneering of southern Utah.

Gathering in Harmony presents the story of Mormonism from the earliest days in Missouri, Illinois, and Iowa to the trek across the plains to Utah. Far more than a family history, the book deftly recreates the forces that influenced these people in their journeys and the way in which they themselves helped to shape events. Drawing on many primary sources, the narrative goes on to recount the early settlement of southern Utah, the story of New Harmony--a small town with a significant history--and culminates with the exploits of a most uncommon common man, Sheriff Antone B. Prince.

Southern Utah in its early settlement years is revealed in words and deeds of the pioneers. Told with objectivity and a respect for the faith of his forebears, the author illuminates the lives of those who struggled to build up the inheritance for those who would follow.



AVAILABILITY
This book is available at Amazon and other booksellers.

For excerpts about Antone Prince, click here.



COVER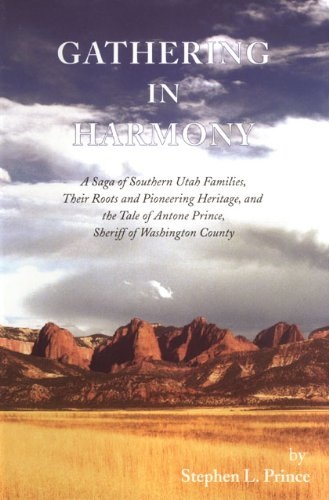 TABLE OF CONTENTS
TBD