LOCATION
95 South 800 East
St. George, UT 84770
673-2302 in the 1972 telephone book (Community Baptist Church)
(435)673-2302 in the 2013 telephone book (St. George Community Church)
(Not listed in the 1954, 1958, or 1961 telephone books)
http://www.stgeorgecommunitychurch.com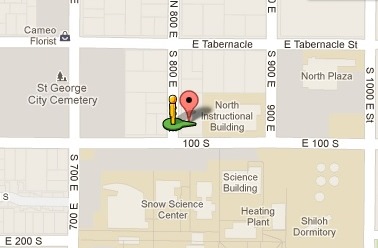 HISTORY
This church began on January 12, 1951 when a meeting was held at the home of Mr. & Mrs. William Powell to organize a non-denomination church.

The church building was completed in 1960.

Rev. Alex Wilkie arrived in October 1961 to become pastor of the church.

Part of the church property was sold off to Dixie College to pay off the building and to start a building fund.

The building was expanded and remodeled and the improved facility was dedicated on October 21, 1990.



PHOTOS
TBD



REFERENCES
"A Short History of the Community Baptist Church, St. George, Utah January 1951 - December 1988"
Edited by William "Bill" Schlitt
Unpublished, but a copy of is in the Washington County Library Special Collections.

Southern Utah Memories: Community Baptist Church grows with the community,
by Loren R. Webb, March 15, 2013

Interview of Pastor Alexander I. Wilkie
by Loren R. Webb, April 8, 2021