LOCATION
444 South River Road
St. George, Utah 84790
(435)634-3000
http://www.skywest.com



HISTORY
On April 26, 1972, Ralph Atkin and a group of friends purchased Dixie Airlines, planning to provide air service between St. George and Salt Lake City. The operation included a Fixed Base Operator (FBO) offering aircraft maintenance, air ambulance service, air charter service, and a flight school. They started with four airplanes (a 2-seat Piper Cherokee 140, a 6-seat Cherokee Six, a 4-seat Cherokee Arrow and a 6-seat Piper Seneca) and three part-time pilots (Earl Snow, Jerry Fackrell, and Paul Leddy). The first scheduled passenger flight from St. George to Salt Lake City with a stop in Cedar City was made on June 19, 1972 and piloted by Jerry Fackrell. Fares between St. George and Salt Lake were $28; $25 between Cedar City and Salt Lake. In its first year, SkyWest carried 256 passengers.

In 1973, the Seneca was replaced with an 8-seat Piper Navajo (N76LE) and a 9-seat Piper Navajo Chieftain. Moab Canyonlands Air Service (another FBO) was purchased for a proposed Moab to Salt Lake route. Las Vegas was added to the scheduled passenger service. Ralph Atkin's wife, Cheri, wrote the first customer service manual. SkyWest carried 2,039 passengers in its second year.

In 1974, Jerry Atkin joins SkyWest as Director of Finance. Page Aviation Services was purchased and business was expanded to include Bullfrog and Moab, Utah. In its third year, SkyWest carried 11,887 passengers.

The company faced some bumps and tough times over the years. At one point early on, it was $150,000 in debt and was in such poor shape the owners literally couldn't give it away.

On Tuesday, May 17, 1983, the airline suffered its first aircraft accident. A special projects editor for Air Transport World was aboard a SkyWest Piper Navajo airliner and two SkyWest officials were waiting for her on the St. George airport when the pilot made a gear up landing. Nobody was injured (except for some pride) and the plane sustained $50,000 in damages.

In 2011, SkyWest had 315 aircraft, more than 20,000 employees (including nearly 600 in St. George), carried 24.5 million passengers, and generated $13.6 billion in revenue passenger miles.

The airline is now one of the largest independent commuter airlines in the world and one of the largest businesses in St. George. It has become one-third of the nation's regional network, carrying one out of every twelve passengers who fly in the U.S. today. Jerry Atkin is the company's chairman and CEO.



PHOTOS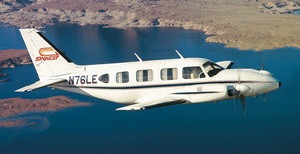 SkyWest's first Piper Navajo



REFERENCES
History on the SkyWest Airlines website

SOUTHERN UTAH MEMORIES: SkyWest Pilot Forgot About Landing Gear
by Loren R. Webb, September 15, 2012