LOCATION
858 E. St. George Blvd. (was 100 North)
St. George, UT 84770-3036
673-2216 in the 1972 telephone book (Frostop, 858 E 100 N)
(435)673-2216 current
https://www.facebook.com/pages/Larsens-Frostop-Drive-Inn/118513854907837

37° 6' 34.3" North Latitude, 113° 33' 54.5" West Longitude
37.1095° North Latitude, 113.5651° West Longitude
3,241 feet (861 meters) MSL



HISTORY
Gale & Darlene Larsen were farmers in the Uintah Basin. Gale supplemented his farm income by driving a Wonder Bread delivery route. One of his customers was a Frostop franchisee in Duchesne UT. That business seemed to be doing well, so the Larsens decided to give that business a try.

In 1965, they moved to St. George and started Larsen's Frostop on St. George Blvd. When it opened, Frostop was a nationwide chain of franchised root beer stands. There were around 350 such stands in the US in the 1960s. But the chain went out of business in the early 1980s.

Originally, Larsen's Frostop had the typical 14-foot rotating root beer mug sign which was typical for most franchisees. But when the franchise folded, Larsen's Frostop continued as a privately owned store. The mug was replaced with the current neon sign. The mug was stored in the Larsen's back yard for several years and then was moved to a farm. It is currently sitting on a little hill at Gale's farm, at 3000 East and about 1700 South, Latitude: 37.079342 & Longitude: -113.526019.

Gale and his wife ran the business until 2002 when they decided to retire. They sold the business to Nathan McCleery, a local schoolteacher. Nathan had been teaching Spanish for five years, but wanted to become an entrepreneur.

Kim & Andra Garrett bought the store in June of 2008. Garrett has an extensive resume in the food industry. Originally drawn to Dixie College from Provo High to play basketball, he has a bachelor's degree in hotel and restaurant management from BYU-Hawaii. After a few years away from St. George, the Garretts and their children returned in 1986. Kim managed Arby's for 10 years and then Tony Roma's for another 10 years.



PHOTOS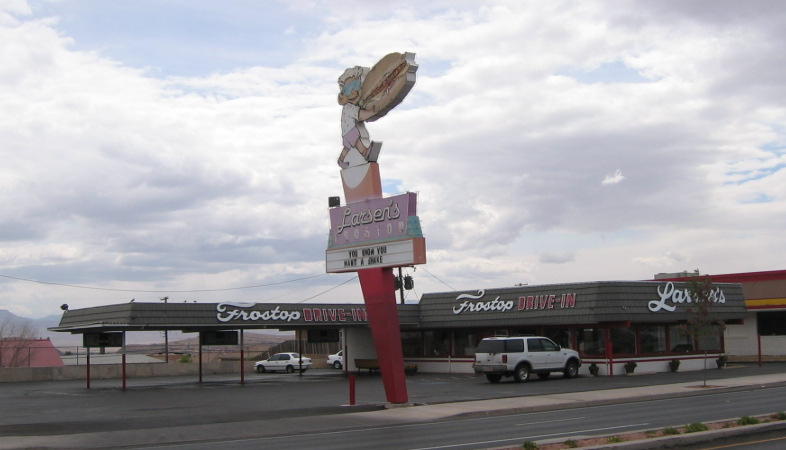 WCHS-00289 Recent photo of Larsen's Frostop

Other WCHS photos:
WCHS-00388 Photo of St. George Blvd. looking west with the Frostop on the left
WCHS-01969 Photo of the inside of the old Frostop in St. George
WCHS-01970 Photo of the old rotating root beer mug sign at the Frostop
WCHS-01971 Photo of the entrance to the Frostop in St. George
WCHS-01972 Photo of the Frostop in St. George

Other photos on the web:
Photo of Larsen's Frostop at night looking west
A collecton of photos, including three photos of Larsen's Frostop
Photo of Larsen's Frostop sign looking east
Photo of Larsen's Frostop sign looking east
Two photos of the Larsen's Frostop sign



REFERENCES
Southern Utah Memories: Drive-ins Bring Back Nostalgic Look into St. George's Past,
by Loren R. Webb, June 21, 2013

Article about the history of Larsen's Frostop through its sale to Nathan McCleery

St. George Spectrum article about the Garrett's purchase of Larsen's Frostop

Larsen's Frostop lives up to historic, iconic status
Article by Brian Passey
The Spectrum, March 21, 2013

Wikipedia article about the Frostop Root Beer chain

A history of Frostop Root Beer

Discussion and photos of the Frostop Root Beer chain

Facebook page for Larsen's Frostop