LOCATION
109 South 200 West (1947-????)
St. George, Utah

596 North Highway 91 (????-1969)
St. George, Utah
Telephone 76-M in the 1954 telephone book (Parke Cox)

396 North Industrial Road (St. George Industrial Park, 1969-2011)
St. George, UT 84770
628-0886

4250 S. River Road (Ft. Pearce Industrial Park, 2011-Present)
St. George, UT 84790
(435)628-0886
http://www.coxtrucking.com



HISTORY
In 1946, Parke Cox was discharged from the Army Air Force and returned home to find a stagnant economy and few jobs. He discovered the U.S. Government was selling army surplus trucks at a very low cost. So in 1947, he and his wife, Emily, took advantage of the opportunity and drove cross-country to Warren, Ohio, where they took possession of their first diesel truck. It was unassembled and in crates, but after getting it put together, they drove it back to St. George where they started a business, "Parke Cox" based out of their home at 109 South 200 West.

In 1969, the Parke Cox business moved to 396 North Industrial Road in the St. George Industrial Park.

The name of the company was changed from Parke Cox to Parke Cox Trucking Company, Inc. in 1974

The business increased as hauling contracts were established with various companies over the years. By 1985, the company had eight trucks, doubling to sixteen shortly thereafter.

Parke Cox Trucking applied for and received its Interstate Commerce Commission (ICC) operating authority in 1987, and became a fully independent trucking company.

In October of 2011, the business was moved to a new 10-acre facility at 4250 South River Road, St. George, in the Fort Pearce Industrial Park.

From its inception, this has been a family run business. It was started by Parke & Emily Cox. Their son, Don, who had graduated from the University of Utah with a degree in business, joined the company in 1985. In 1990, another son, Dave, came on board full time after having served 15 years at Moore Business Forms with management experience. Daughters Karen and Tina also worked there. In 2004, Parke & Emily sold the company to their sons, Dave and Don, but they continued to work in the business.

The business is still active with 70 trucks operating in all 48 states of the continental United States.



PHOTOS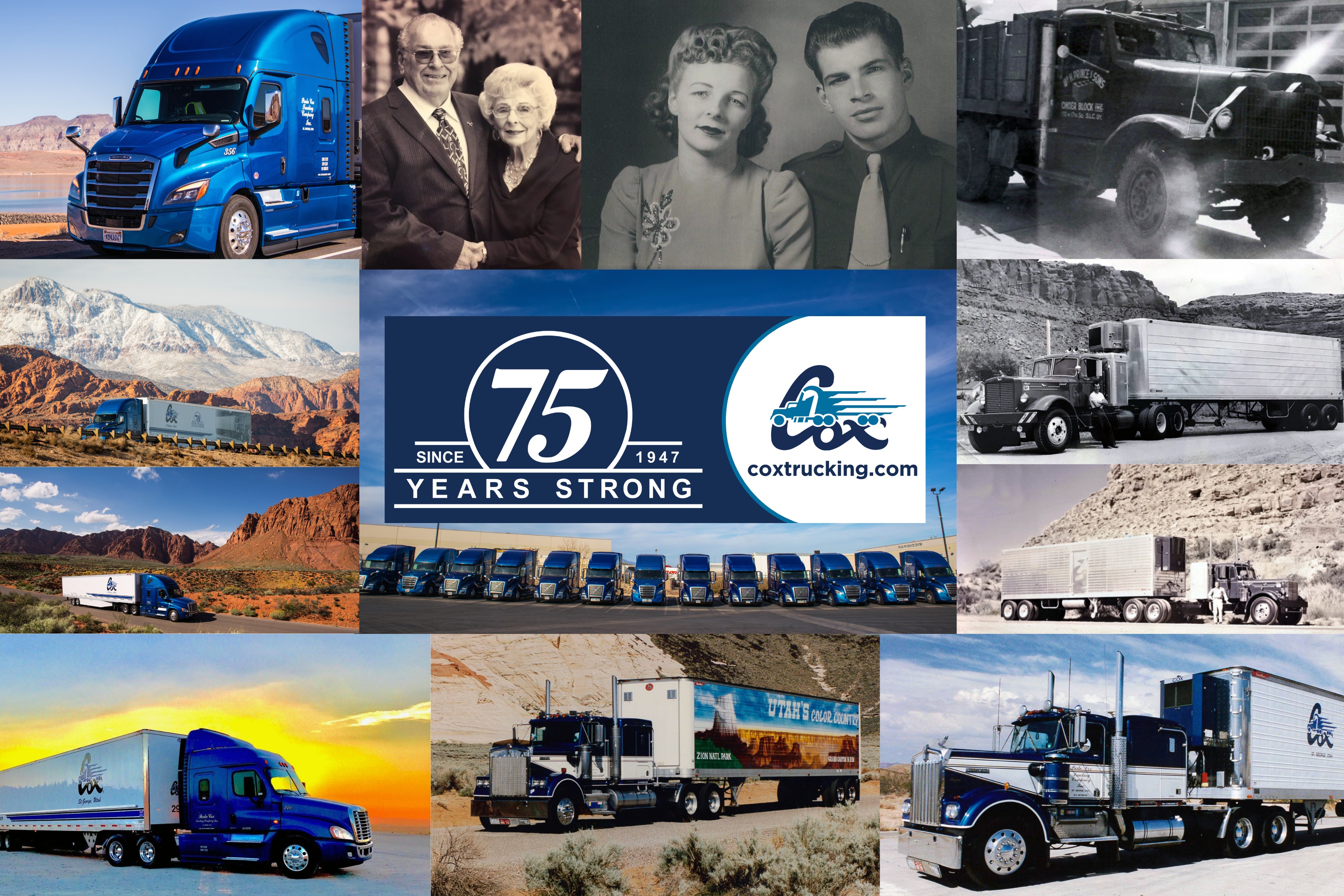 WCHS-05269 Collage of Cox Trucking Co. photos (Click here to enlarge)

WCHS photos of trucks:
WCHS-05144 Photo of the first Cox truck, an Army surplus truck
WCHS-05145 Photo of Parke Cox in front of the second Cox Trucking truck
WCHS-05146 Photo of ????? standing in front of one of the older Cox Trucking trucks
WCHS-05147 Photo of some people with one of the old Cox Trucking trucks
WCHS-05148 Photo of a modern truck in the Cox Trucking fleet
WCHS-05149 Photo of a modern truck in the Cox Trucking fleet
WCHS-05150 Photo of a modern truck in the Cox Trucking fleet
WCHS-05151 Photo of the big Cox refrigerated truck with smaller refrigerated trucks from other companies
WCHS-05271 Photo of a Cox Trucking Co. truck
WCHS-05272 Photo of a Cox Trucking Co. truck
WCHS-05273 Photo of a Cox Trucking Co. truck
WCHS-05274 Photo of a Cox Trucking Co. truck
WCHS-05275 Photo of a Cox Trucking Co. dump truck
WCHS-05276 Photo of a Cox Trucking Co. dump truck
WCHS-05277 Photo of a Cox Trucking Co. flatbed truck
WCHS-05278 Photo of a Cox Trucking Co. truck in New York City

WCHS photos of people:
WCHS-05145 Photo of Parke Cox in front of the second Cox Trucking truck
WCHS-05146 Photo of ????? standing in front of one of the older Cox Trucking trucks
WCHS-05147 Photo of some people with one of the old Cox Trucking truck
WCHS-05270 Photo of ???, ???, and ??? standing in front of a Cox Trucking cab
WCHS-05287 Photo of Parke & Emily Cox walking in front of a row of their trucks



REFERENCES
About Cox Trucking
Company Video (including history), March 13, 2016

Parke Cox Trucking History
By Shanna Lelli of Parke Cox Trucking Company Inc.

Images of Faith: A Pictorial History of St. George, Utah
By Lynne Clark, 2012
See page 309

SOUTHERN UTAH MEMORIES: Parke and Emily Cox were the driving force behind Parke Cox Trucking Company
by Loren R. Webb, August 2, 2013