LOCATION
3036 W. Santa Clara Drive (on the Santa Clara Heritage Square)
Santa Clara, UT 84765

37° 7' 59" North Latitude, 113° 39' 10" West Longitude

A portion of Lots 13 and 14, Block 22, Santa Clara Townsite and Field Survey, located in Section 16, Township 42 South, Range 16 West, Salt Lake Base and Meridian, being more particularly described as follows:
The area beneath the existing Santa Clara Relief Society Hall with a ten foot wide yard surrounding the entire building. The boundary describes the parcel of land that completely includes the historic 1908 Santa Clara Relief Society Hall. The adjacent LDS meetinghouse and the historic Gubler House are not included.



HISTORY
Built in 1907.

The L.D.S. Church purchased the property, including the Relief Society Building and the Hug-Gubler Home, from the Gublers.

In the early 1990's, Bruce Anderson was a bishop in the building adjacent to the Gubler property. He came home from a meeting and told his wife, Sherri, that the two buildings were to be torn down to add more parking space around the church.

At this point, a group of interested citizens (Claudia West, Clark Ence, Pam Graf, Vicki Lasswell and Sherri Anderson) formed a committee to save the buildings. It was a fight, but they won and ended up purchasing the property with the two buildings from the L.D.S. Church for $22,000. The committee had no money so it was decided to have a town celebration to help raise the funds and thus Santa Clara Swiss Days was begun.

As money became available, the restoration began slowly. First it was the Relief Society House, then the front of the property with the landscaping and monument, then finally the restoration of the Hug-Gubler Home.

The Relief Society House was put on the National Register of Historic Places (#1993001577) on February 2, 1994.

In September of 2007, the Washington County Historical Society awarded a Certificate of Commendation to the Santa Clara Historical Society for their work in restoring the old Relief Society House.



PHOTOS
| | |
| --- | --- |
| South/front and east sides (Charles M. Shepherd, May 8, 1993) | South/front and west sides (Charles M. Shepherd, May 8, 1993) |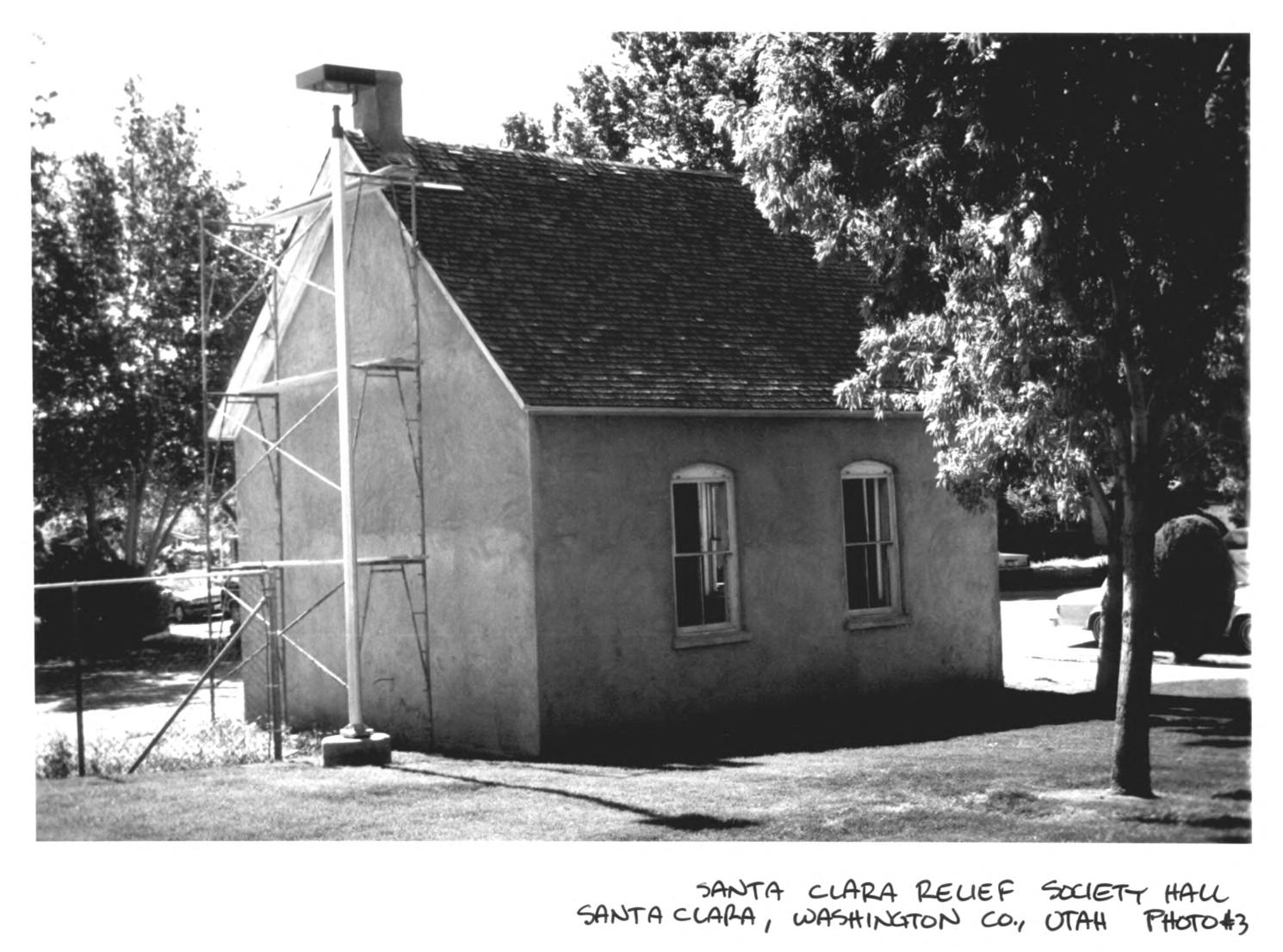 North/back and west sides (Charles M. Shepherd, May 8, 1993)




Other WCHS photos:
WCHS-00330 Photo of a late 1940s school bus in front of the Santa Clara Relief Society House and Hug-Gubler Home
WCHS-00333 Photo of the west wall inside the Santa Clara Relief Society House
WCHS-00337 Photo of an old sewing machine inside the Santa Clara Relief Society House
WCHS-00338 Photo of a display cabinet inside the Santa Clara Relief Society House
WCHS-00339 Photo of a model of the old Santa Clara Public School on display in the Santa Clara Relief Society House
WCHS-00340 Photo of an old organ in the Santa Clara Relief Society House
WCHS-00341 Photo of an old photo of Santa Clara hanging in the Santa Clara Relief Society House
WCHS-00342 Photo of an old photo hanging in the Santa Clara Relief Society House showing some pioneers and their wagon
WCHS-00343 Photo of a painting of the old Santa Clara Fort displayed in the Santa Clara Relief Society House

Other photos on the web:
Front of the Santa Clara Relief Society House
Webpage that includes a photo of the Santa Clara Relief Society House
Photos from the National Register of Historic Places nomination form



REFERENCES
Santa Clara, Utah's Little Relief Society House
By Nellie M. Gubler

Dedication Prayer: Old Santa Clara Relief Society Building
Given by H. Bruce Stucki on September 24, 1993

National Register of Historic Places, Inventory - Nomination Form