LOCATION
On Highway 91 in Santa Clara.



HISTORY
The first permanent highway checking station in Utah was built in Santa Clara in February of 1932. A set of Fairbanks-Morse platform scales, 9 feet wide by 28 feet long and capable of weighing 20 tons, were installed.

Patrolmen enforced the traffic code and highway revenue laws as well as issued license plates and additional load plates, collected gasoline tax, and compiled data for the Public Utilities Commission at this location.

Despite a 12.8% annual increase in truck inspections for the next seven years, the Santa Clara checking station was closed on December 2, 1939. In 1939, the Santa Clara checking station had 186,036 vehicles pass over its scales.



PHOTOS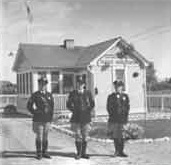 Santa Clara Checking Station in 1935
with Sgt. Marion Snow, Patrolman L. A. "Blondie" Porter, and Patrolman Loren D. Squire

WCHS photos:
WCHS-04478 Photo of the Santa Clara Checking Station in 1936



REFERENCES
UHP History of the First Checking Station