DESCRIPTION
Mormon Puzzle Hobbles were iron hobbles connected by a chain and used to hobble horses or other livestock so that they would not wander off when not otherwise constrained such as by fences.

The unique feature of these hobbles was a chain mechanism that could be easily put on or removed if you knew how to do it. But if you did not know the trick, it was almost impossible to remove. This prevented the theft of animals by native Americans or other uninitiated.



HISTORY
These hobbles were developed my Mormon blacksmiths and were used by pioneers crossing the plains as well as by settlers in the intermountain west.

At least two pairs of these antique Mormon Hobbles exist in Washington County. One is at the Daughters of Utah Pioneers Museum in St. George and the other is at the Jacob Hamblin Home in Santa Clara.



PHOTOS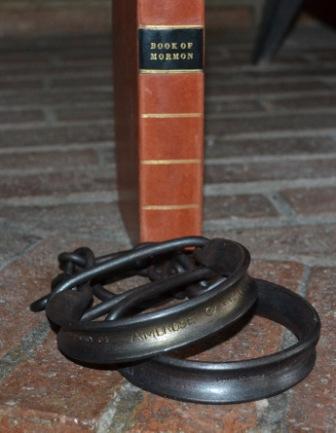 WCHS-01357 Set of Mormon Puzzle Hobbles



REFERENCES
" Mormon Horse Hobbles" by Dennis C. Manning
and dedication of set #453 to Ambrose M. Cannon

Video link to a Texas horseshoer taking a set apart