LOCATION
37° 6' 46.16" North Latitude, 113° 34' 22.79" West Longitude
37.1128° North Latitude, 113.5730° West Longitude
3,003 feet (915 meters) MSL

On the Red Hill, directly north of 500 East on the south side of Skyline Drive (now Red Hills Parkway).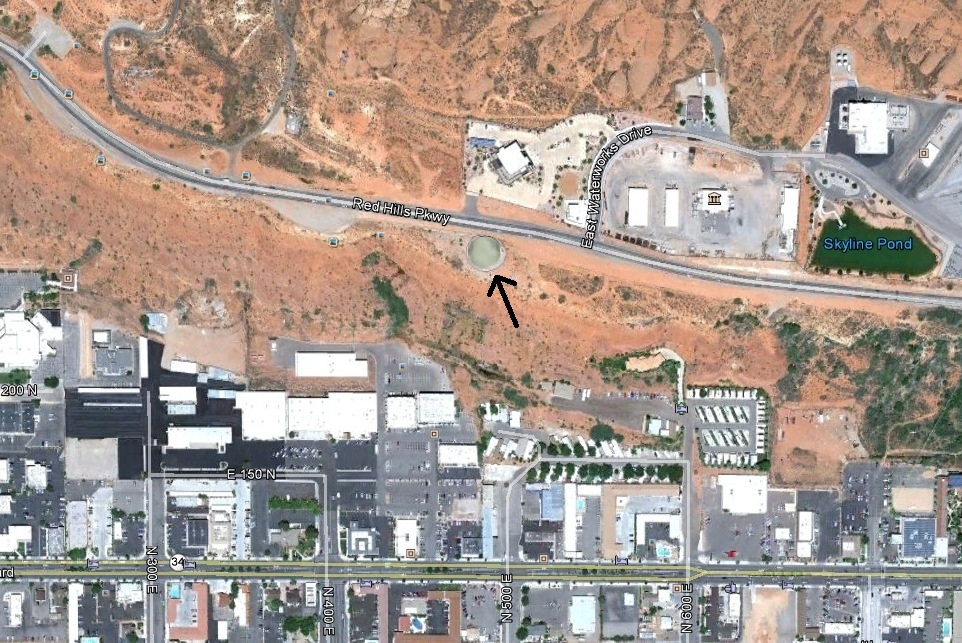 DESCRIPTION
This 1 million gallon water storage tank was round with a flat cement roof. Stairs on the side led up to the roof.

During part of its life, it had a railing around the edge so that people on the roof would not fall off.



HISTORY
This tank was built by the city of St. George in 1948 to store water being piped down from Pine Valley Mountain.
It became a major component of the municipal water system.

It also added to the community's social scene. The wide, flat concrete roof became a popular outdoor dance
floor. Dances were held Friday and Saturday nights for quite a while. For years after its completion, the water
tank was a favorite fun spot for Dixie-ites.

The first year, there was no railing along the edge, which made it a little scary. After that, a railing was put up
which made it a lot safer.

The railing has been restored with the intent of using the structure as a place to look out over the city.

This structure in currently owned by the City of St. George.



PHOTOS
TBD



REFERENCES
TBD