LOCATION
Near the north end of Rolling Hills Circle in Washington, Utah

37° 8' 44.16" North Latitude, 113° 30' 25.37" West Longitude
37.145597° North Latitude, 113.507048° West Longitude
2,954 feet (900 meters) MSL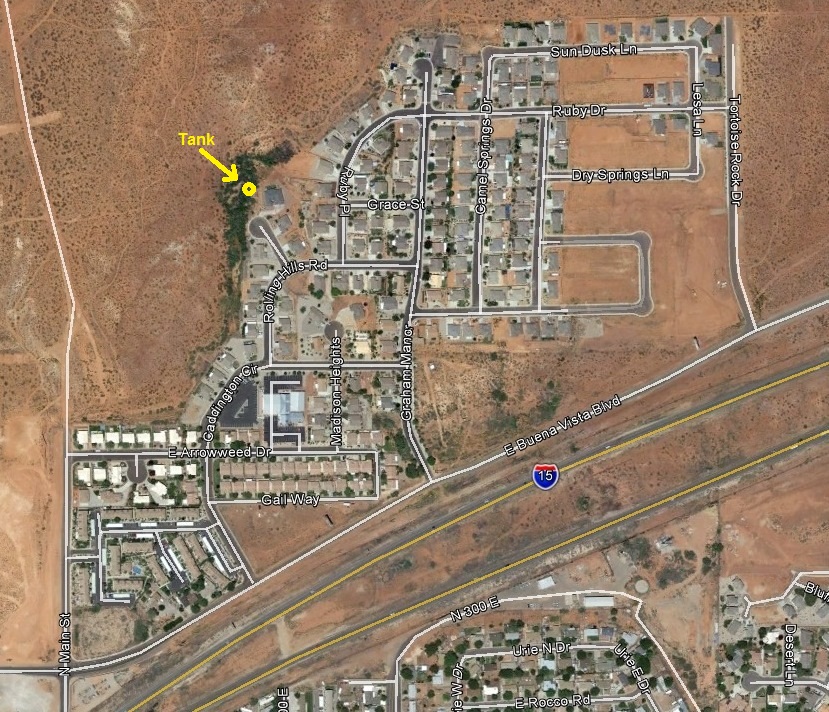 Closer Aerial View Closest Aerial View


Note: If you know anything about this tank
please contact Susan Crook at scrookla@gmail.com



DESCRIPTION
This water tank is made of welded steel plates 19 feet in diameter.

A welded inscription says, "King Co., Nov. 13, 1953".

There is an unnamed spring nearby that was the source of the water stored in the tank.
There is also a well-head with the cover off not far from the spring.



HISTORY
TBD

This tank is now considered a safety hazard and will be demolished after being documented.



PHOTOS

WCHS-02760 The Rolling Hills Circle Water Tank in 2015

Other WCHS photos:
WCHS-02759 Photo of the Rolling Hills Circle water tank
WCHS-02761 Photo of an inscription on the Rolling Hills Circle water tank



REFERENCES
TBD