PRINCIPALS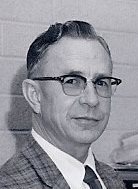 Garn J. Olsen (1955-1967)
Garn J. Olsen was born in 1911 in Spring City, Sanpete County, Utah where he attended
elementary and high schools. In 1932, he graduated from Snow College with a teacher's
certification. He began teaching in Tropic Utah on September 26, 1932. His contract read,
"At a salary of $82.80 a month for seven months or until funds are exhausted." In 1932, he also
met Iris Rose Ott of Tropic and four years later they were married. During summers he went
to BYU and earned advanced degrees. He taught in many towns where he was principal as well.
While teaching in Richfield, Superintendent Moody of the Washington County School District
recruited him to be the principal of the new East Elementary which opened in September of 1955. The Olsens
moved to St. George and stayed twelve years. Principal Olsen landscaped the new school ground, added
improvements, and planted mulberry trees all around the building. He organized a chorus of upper grade kids
and practiced two days a week. In 1967, after thirty-five years in education, Mr. Olsen retired. He and his wife
decided to move to Salt Lake City, since most of their children were in that area. In 1977, they made their
final move to Orem where he passed away in 1996. For more information, click here.




Dar L. Smith (1967-1988)
Dar Larson Smith was born and raised in Henrieville, Utah. He attended elementary school
in Henrieville, middle school in Antimony, and high school in Tropic. He learned the value of
hard work on the family farm and also developed a lifelong love of learning. Dar graduated
from Dixie College and then served in the U.S. Army. He then continued his education, getting
BS and MEd degrees from BYU. Smith taught elementary school in Tropic for 10 years before
being hired as principal of East Elementary, a position he held for 21 years. Dar is married
to the former Helen Jolley and they are the proud parents of six boys and one girl. They are
still residents of St. George. The red sand of Dixie has collected in their shoes! Dar's hobbies and avocations
include refereeing sports, photography, park ranger naturalist, scouting, civic service clubs (i.e. Kiwanis,
Lions), numerous church positions and callings, family history writer and researcher, and trying to be a good
father and husband. For more information, click here.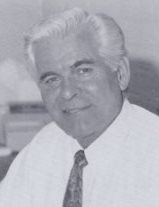 John Whatcott (1988-1995)
Principal John Whatcott began his duties the fall of 1988 upon the retirement of Dar Smith.
East Elementary student body and staff grew and year-around-school flourished. Special,
"Brown Bag" classes held three days per week during lunch recess allowed any student
to be trained to participate in events such as, Storytelling, History Fair, Geography Challenge,
Spelling Bee, and Debate competitions. East Elementary received top recognition in these
competitions as well as the annual track meets. The student Handicapped unit bonded East
and brought warmth and caring to the entire student body. Many school programs that had
their beginning during Principal Whatcott's tenure, such as the Heritage Festival, continue as annual events.
Retirement came to Principal Whatcott in 1995, after a total of 37 years of devoted service to Public Education.
For more information, click here.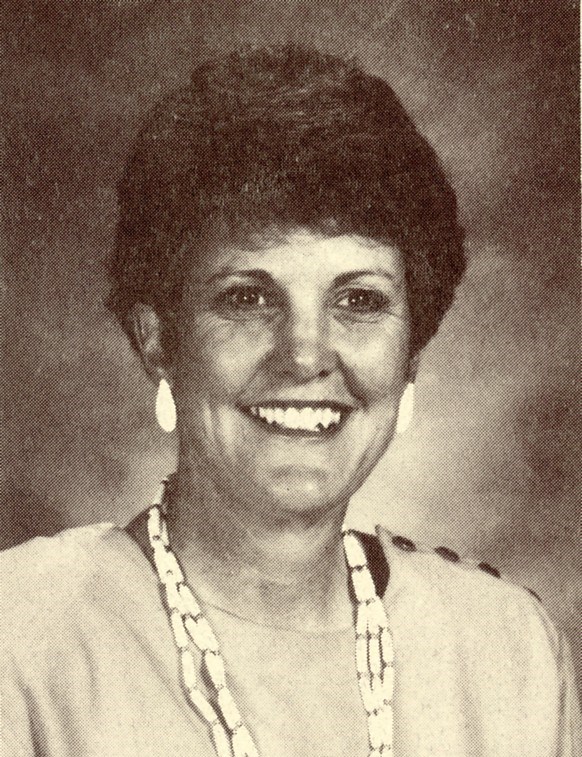 Dixie Heaton Andrus (1995-2004)
Principal Dixie Heaton Andrus grew up on a farm in Alton, Utah learning the value of hard work,
integrity, community service. She came from a family of educators and gained a real appreciation
for the value of education. Dixie graduated from Valley High School and then received her
associate's degree at Dixie College before getting a degree in Elemenary Education from Utah
State University. Dixie married George Andrus and they made a home in St. George. Dixie is
the mother of four children and also raised a foster son. She began teaching in 1963 with
experience at Hurricane Elementary (1st Grade), West Elementary (1st Grade), Dixie College
(Pre-school Lab and Adjunct Professor in the Ed Dept.), East Elementary (Special Needs, 2nd Grade, 5th
Grade), Washington Elementary (4th Grade, Secretary), and Woodward (6th Grade, Vice Principal). Meanwhile,
she earned a Masters and an Administrative degree. Then in 1995, Dixie was named Principal of East
Elementary where she served for nine years.



Joseph Eckman (2004-2012)
Principal Joseph (Joe) Eckman began his duties in the fall of 2004 upon the retirement of
Dixie Andrus. The East Elementary student-body continued to grow and flourish. Mr. Eckman
had served as the school's counselor for many years before serving as a vice principal in
a middle school. He was well acquainted with East's faculty and staff. He was their choice to
become their next principal. He strived to produce the best education for all students at East.
His office walls held charts containing the names and classroom of every student whose
ranking was below grade level. He, personally, monitored their progress daily. He was a
principal who showed love for his students and East Elementary progressed during his dedicated tenure.
He left East in 2012.


Teria Mortensen (2012-Present)
TBD









PHOTOS
WCHS photos:
WCHS-02476 Photo of Dar L. Smith and Garn J. Olsen in 1967
WCHS-02477 Photo of Dar L. Smith, the new principal at East Elementary School
WCHS-02478 Photo of Dar L. Smith in 1988
WCHS-02479 Photo of Dar L. Smith at East Elementary School



REFERENCES
TBD