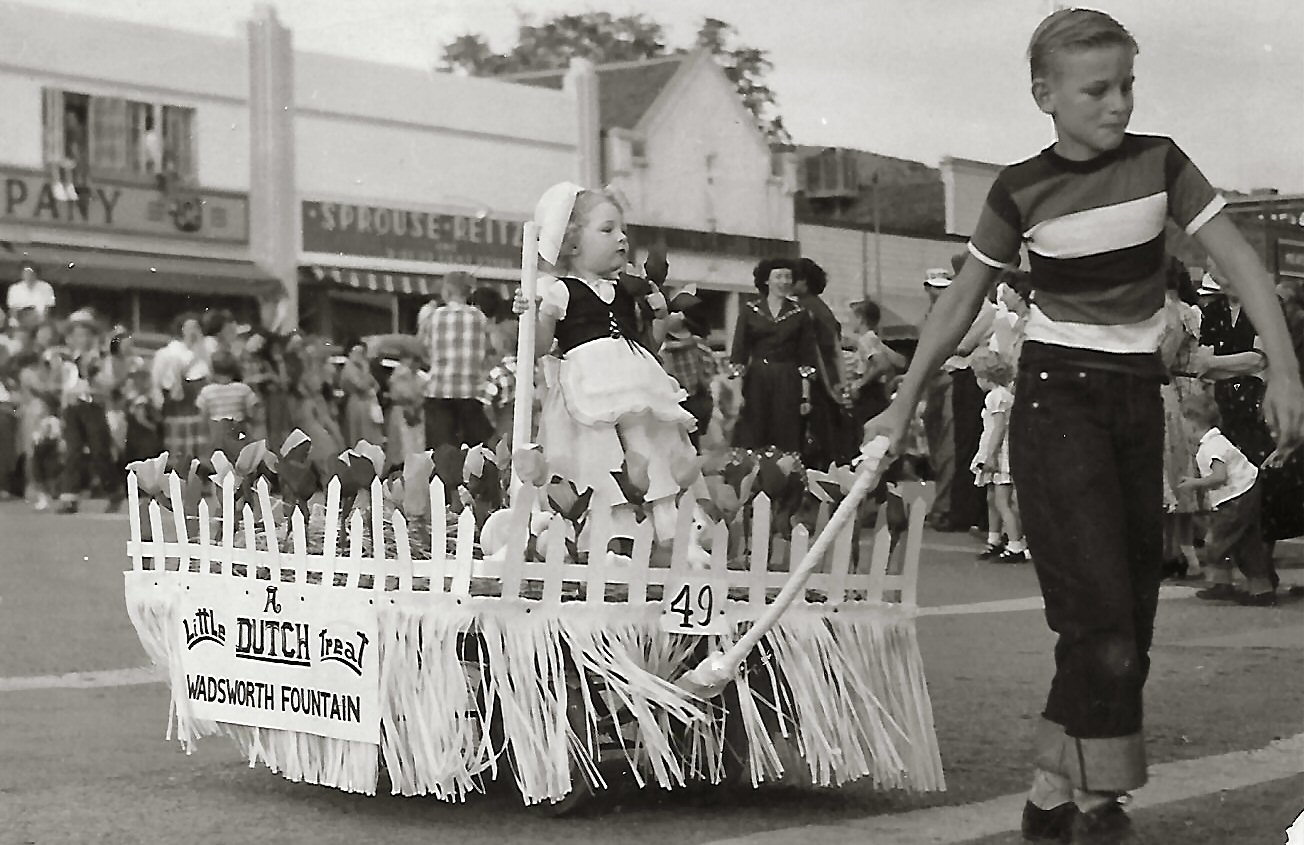 Photo of Clark Nelson (age 14) pulling his little sister, Beverly (age 3), along in the Dixie Roundup Parade,
probably in 1951.

The theme of the float was "Little Dutch Treat" and was sponsoed by the Wadsworth Fountain which was later
bought and run by Clark and Beverly's parents as Rex's Fountain.

Photo contributed by Clark Nelson on 1/31/2017.

Memory from Clark Nelson:

Following the parade, the float 'Little Dutch Treat' with my sister aboard, was temporarily parked in our front
yard at 359 East 100 South, just across the street from the Sun Bowl. There were a number of chain-link fence
corrals on that northern side of the Sun Bowl and I was standing there by the float when a cowboy seemed to
emerge from that corral area and was headed my way. As he walked up to me, I recognized who he was,
rodeo clown Wilbur Plaugher who had become a favorite during recent annual Dixie Roundups.

Rodeo clowns such as Plaugher were generally those most capable in all forms of rodeo competition.
However the primary roles of the rodeo clown were two-fold: (1) to draw bulls away from rudely dismounted
bull riders; and (2) conduct humorous routines with the rodeo announcer.

When Plaugher asked if it would be possible to use the white crepe skirt from the float for a comedy routine
later that evening during the rodeo, I asked my mother if it would be okay and she said it would be fine.
So Plaugher removed the white crepe skirt from the float, then handed me a free pass to the rodeo that
evening. Plaugher tied the white crepe paper to the tail of his horse in a humorous routine such as those
Plaugher was known for.

In 1946 at the Madison Square Garden Rodeo in New York, Plaugher was the All-Around Champion. He was
voted Rodeo Clown of the Year in 1982. Plaugher passed away at the age of 95 in 2018.