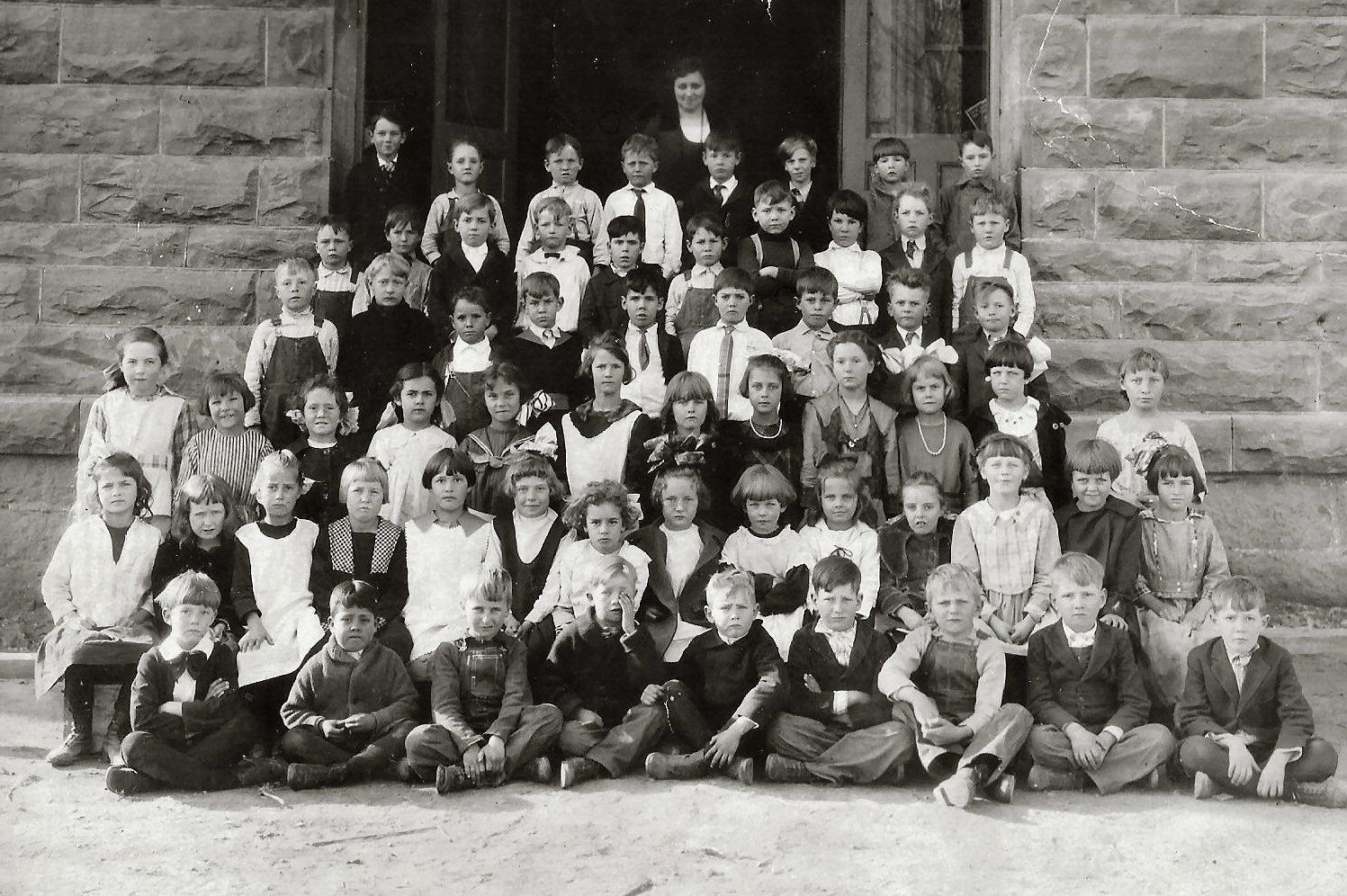 Photo of a teacher and students at the Woodward School in St. George.

This photo was probably taken about 1920 or 1921.

Back: Mamie Windsor (teacher)
Back row, left to right: Millard (Mildred ?) Thompson, Ivor McGee, Eddie Jones ? (crossed out), Wesley Atkin,
Ronald Fawcett, Heber Thompson, Bud Sorenson, Clark Chadburn
5th row, left to right: Lewis Pectol, Leland Brooks, Henry Nichols (Nichaels ?), Clark (Ceael ?) McAllister,
Bud Seegmiller, Clark Christian, Rulon Cox, Paul Cox, Albert Stratton, Vernon Hemingway
4th row, left to right: Victor Royce, Donald Craig, Clark Foster, Reed Adams, Walter Pace, Delbert Sullivan,
Merril Bagshaw, Harold Vance, Alma Riding ?
3rd row, left to right: Barbara Sturzenegger (Stutsneggar ?), Lottie Beacham, Evelyn Guerrero, Nelda Seaman,
Grace Terry, Mary McGregor, Cleo Higgins, Emily Washburn, Virginia Prince, Edith Pymn, Marie Cox,
Effie Stringham
2nd row, left to right: Viola Woodbury, Dixie Judd, Genevieve Hardy, Katherine McFarlane,
Beatrice Sorenson, Addie Sorenson, Kathryn Thurston, Barbara Sturzenegger (Stutzneggar ?),
Miriam Bentley, Nellie Marshall, Erma Worthen, Ila Alexander, Virginia Prisbrey ?,
[Missing one person in this line: Linda Wilkinson ?]
Front row, left to right: Mar McGregor, Wesley Shamp?, Frank Bringhurst, ???, Grant Whitehead, Virgil Snow,
Alan Jarvis, Eldon Reid, Spencer Snow

The names on this photo came from Cleo Higgins Nelson Waite who was one of the students; for her notes,
click here for 1 of 3, click here for 2 of 3 and click here for 3 of 3.

There are a number of questions or discrepancies in the names. If you can reliably provide any corrections,
please contact us at info@wchsutah.org or by using the "Page Feedback" link on the left side of this webpage.

Photo contributed by Clark Nelson on 1/13/2017.