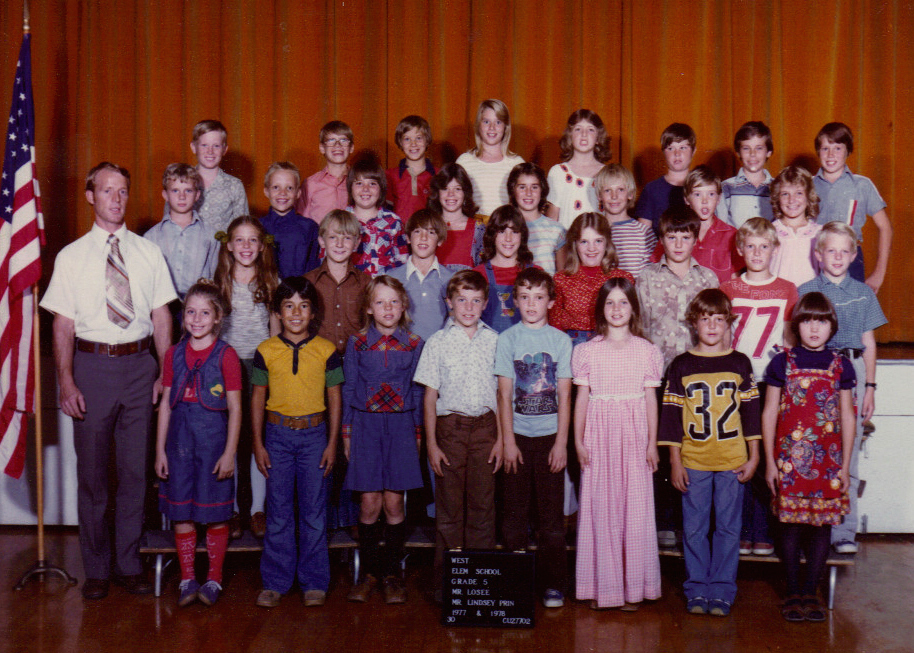 Mr. Losee's 1977-1978 fifth grade class at West Elementary School in St. George, Utah.

Back row (left to right): Stanley Price, Millard Wild, Jeff Stucki, Julene Sullivan, Carol Ziegler, Bryan Hopkins,
Darryl Woolley, Kendall Drew
Third row (left to right): Mitchell Blake, Rowdy Reeves, Cindy Thompson, Margarette Adair, Sharla Brooks,
Tom Foote, Toni Evans, Marsha Leany
Second row (left to right): Aimee Allen, Don Walter, Mike Scofield, Christine Hickman, Tracie Hensen,
Eddie Welch, Bruce Anderson, Jimmy Higley
Front row (left to right): Holly Gilson, Greg "Chico" Torress, Carolyn Earl, Tom Cottom, Kendall Petty,
Mary Prisbey, Derrick Whipple, Gina Ann Scott
Mr. Losee is standing on the left side.

Photo contributed by Leslie Larson Andrus on 9/3/2014.