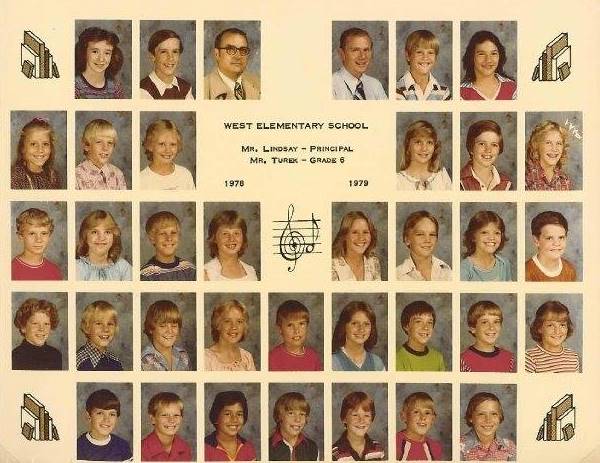 Mr. Turek's 1978-1979 sixth grade class at West Elementary School in St. George, Utah.

Top row (left to right): Jill Wasden, Mike Scofield, Mr. Lindsay, Mr. Turek, Steven Searle, Trissa Stucki
Fourth row (left to right): Holly Gilson, ???, Emily Miller, Heidi Christensen, John Moore, Jolene Peacock
Third row (left to right): Mitchel Blake, Tracy Hensen, Steven Broadhead, Michelle Perry, Tanya Humphries,
Jeff Taylor, Holly McArthur, Marty Heaton
Second row (left to right): JD Beacham, Kelly Brian, Gerald VanWagnor, Jana Hardy, Chad Williams,
Jennifer Campbell, Daymon Hunt, Matt Shell, Mary or Marsha Leany
Bottom row (left to right): Richard Hafen, Tom Delong, Greg Torress, Roger Sheets, Kevin Howes,
Greg Leavitt, Dail Brady

Photo contributed by Leslie Larson Andrus on 8/28/2014.