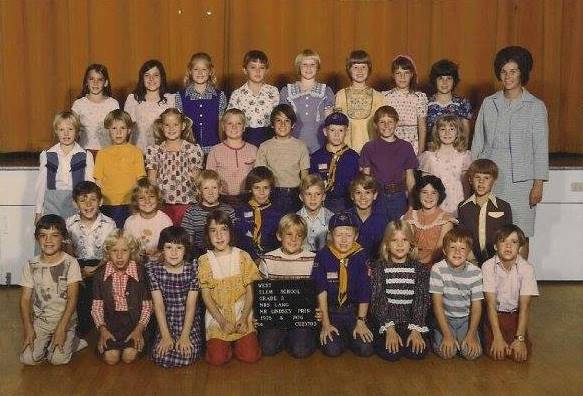 Mrs. Lang's 1975-1976 third grade class at West Elementary School in St. George, Utah.

Back row (left to right): ???, Sue Jensen, Janene Whiting, Terrance Riggs, Heather Hacking, Michelle Perry,
???, Shari Prisbrey
Third row (left to right): Emily Miller, Brett Blake, Mickele Truman, Glen Lang, Russell Stewart, Stanley Price,
Dave Moss, ???
Second row (left to right): Jimmy Raburn, Marsha/Mary Leany, Chris Jacobs, Daryll Wooley, Mitchell Blake,
Carl Sullivan, Lisa Empey, Stacey Porter
Front row (left to right): Grag Newby, Natalie Gubler, Lorelei Morwood, Annie Page, Travis Gates, Brett Barrett,
Kim McCoy, Kevin Howes, Daymon Hunt
Mrs. Lang is standing on the right

Photo contributed by Leslie Larson Andrus on 8/28/2014.