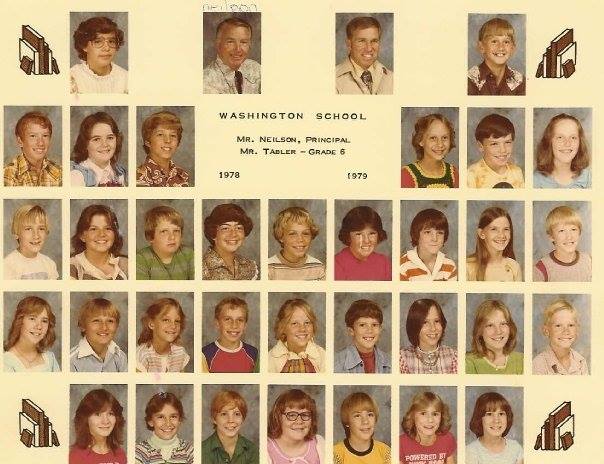 Mr. Tabler's 1978-1979 sixth grade class at the Washington School in Washington, Utah.

Top row (left to right): Tonya Gordon, Mr. Neilson, Mr. Tabler, Gary Slack
Fourth row (left to right): Mike Cooper, Norma Gordon, Chad Tervo, Holly Weaver, Courtney Smith,
Geraldine Beaumont
Third row (left to right): Carl Carpenter, Trisha Adams, David Crookston, Toni Gilger, Darren Bundy,
Lisa Williams, Bruce Prisbrey, Lynette Jones, David Worthington
Second row (left to right): Stacy ???, Freddy Bundy, MaryAnn Denos, Bryce Hunt, Carolynn Earl,
Thomas Suko, Renae Archer, Jane Mickelsen, Brent Hirschi
Bottom row (left to right): Jan Peterson, Marvelee Lund, Randy Scott, Kathy Hall, Max Smith, Heidi Whittaker,
Caroline Baksai

Photo contributed by Caroline Sue Black on 8/28/2014.