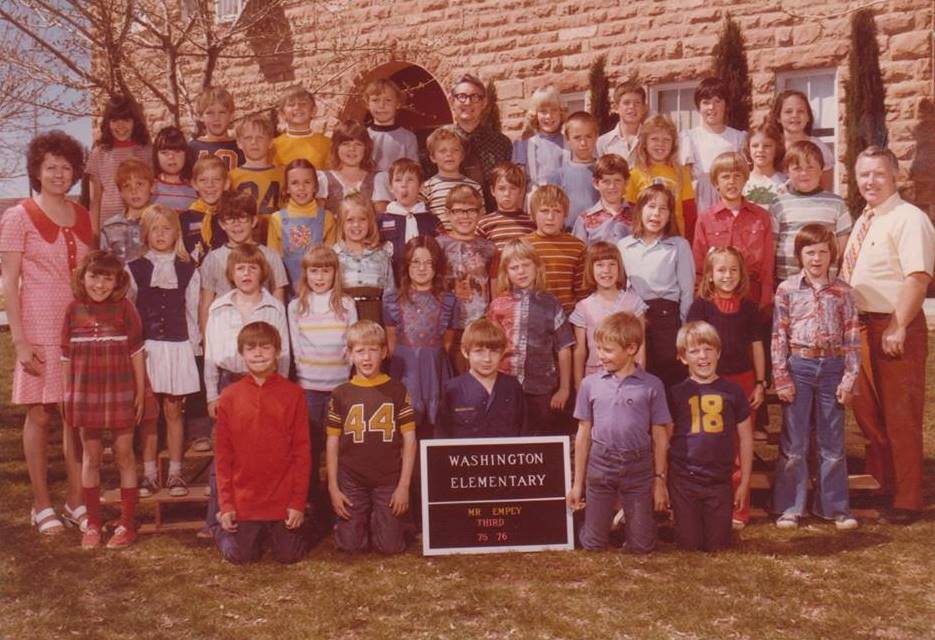 Mr. Empey's 1975-1976 third grade class at the Washington School in Washington, Utah.

Back row (left to right): Laurie Hafen, Kip Day, Gary Slack, Dail Brady, Mr. Empey, Jana Hardy, John Jordan,
Lisa Williams, Marianne Turner
Fifth row (left to right): Brenda Prisbrey, Matt Staheli, Trisha Adams, Ariel Taylor, Max Smith, Keri Anderson,
Mary Ann Denos
Fourth row (left to right): Randy Scott, Todd Iverson, Marvelee Lund, Trooper Kawasaki, Eric Lounsbury,
Cody Lister, Matt Harper, (Billy?)
Third row (left to right): Connie Condie, Tom Suko, Brooke Allred, Lance Bunnell, Milton Bundy,
Stephanie Meade
Second row (left to right): Lana Reidhead, Nick Neilson, Heidi Whittaker, Jenny Cobb, Twig Navarre,
Caroline Baksai, Tannis Bundy, Bruce Prisbrey
Front row (left to right): Charles Thulin, David Worthington, Joe Herring, Todd Iverson, David Crookston
Mrs. Nay in standing on the left and Mr. Neilson is standing on the right

Photo contributed by Caroline Sue Black on 8/28/2014.