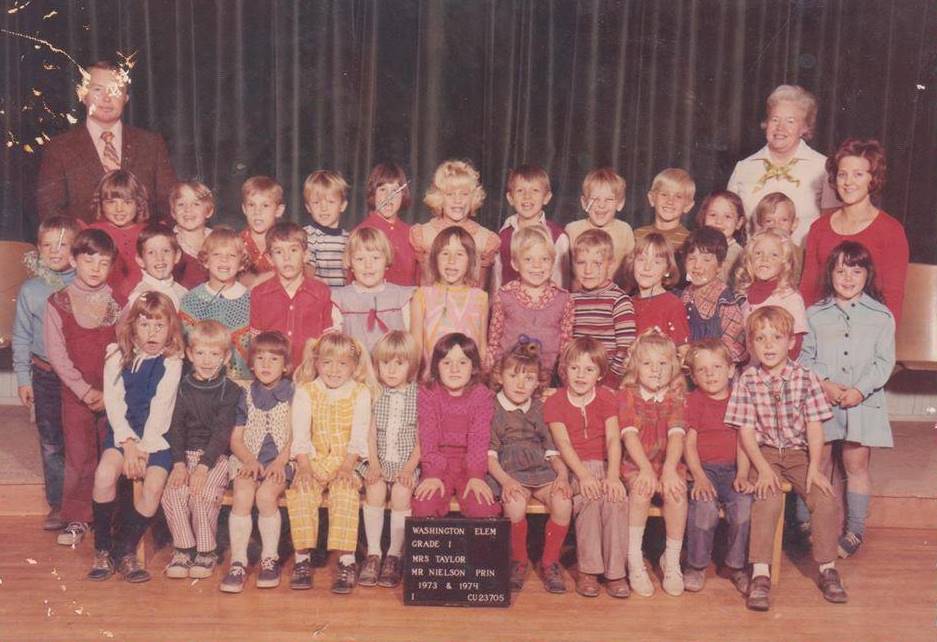 Mrs. Taylor's 1973-1974 first grade class at the Washington School in Washington, Utah.

Back left: Mr. Nielson (Principal)
Back right: Mrs. Taylor (Teacher)
Back row (left to right): Trisha Adams, ???, ???, Matt Staheli, ???, Jana Hardy, ???, Kip Day, Gary Slack,
Marianne Turner, Todd Iverson, ??? (Teacher's Aide)
Left between back and second rows: Lance Bunnell
Second row (left to right): Bruce Prisbrey, Cody Lister, Mary Ann Denos, Robin Dutton, Kathy Hall,
???, Ariel Taylor, Milton Bundy, Geraldine Beaumont, Lisa Williams, Keri Anderson, Brenda Prisbrey.
Front row (left to right): ???, David Worthington, Caroline Baksai, Connie Condie, Heidi Whittaker,
Jenny Cobb, Lana Reidhead, Nick Neilson, Twig Navarre, David Crookston, Ferrin Taylor

Photo contributed by Caroline Sue Black on 8/28/2014.