BIOGRAPHY
William Arthur "Bill" Barlocker was born on July 26, 1921.

Bill married Claudia Hunt on June 5, 1940.
Bill and Claudia later divorced.

Bill enlisted in the US Army on October 9, 1945 at Ft. Douglas, Utah.
Private, Serial Number 39947941.

Bill married Ruby Seegmiller on July 30, 1954.

William A. Barlocker was the mayor of St. George from 1958 to 1966.

Bill died on May 21, 1982 and was buried in the Enterprise City Cemetery.



FAMILY
William's Parents and Siblings:
Arthur Jacob Barlocker
Rosell Truman Barlocker
Marilla Barlocker
Nora Barlocker
William Arthur Barlocker
Truman Alma Barlocker

(4/19/1895-5/3/1987) (married 4/21/1914)
(11/30/1894-6/4/1997)
(5/27/1915-11/29/2005) (married Maeser Welcome Terry)
(4/26/1917-1/2/2006) (married Deward Leon Hall)
(7/26/1921-5/21/1982) (married Claudia Hunt and Ruby Seegmiller)
(3/3/1928-10/18/1929)

First Wife and Children:
Claudia Hunt Barlocker
Xxxxxxx X. Xxxxxxxx
Xxxxxxx X. Xxxxxxxx
Xxxxxxx X. Xxxxxxxx
Xxxxxxx X. Xxxxxxxx
Xxxxxxx X. Xxxxxxxx


(6/8/1920-10/11/2012) (married 6/5/1940)
(xx/xx/xxxx-xx/xx/xxxx) (married Xxxxxxx X. Xxxxxxxx)
(xx/xx/xxxx-xx/xx/xxxx) (married Xxxxxxx X. Xxxxxxxx)
(xx/xx/xxxx-xx/xx/xxxx) (married Xxxxxxx X. Xxxxxxxx)
(xx/xx/xxxx-xx/xx/xxxx) (married Xxxxxxx X. Xxxxxxxx)
(xx/xx/xxxx-xx/xx/xxxx) (married Xxxxxxx X. Xxxxxxxx)

Second Wife and Children:
Ruby Seegmiller Barlocker
Xxxxxxx X. Xxxxxxxx
Xxxxxxx X. Xxxxxxxx
Xxxxxxx X. Xxxxxxxx
Xxxxxxx X. Xxxxxxxx
Xxxxxxx X. Xxxxxxxx


(12/13/1924-6/9/2008) (married 7/30/1954)
(xx/xx/xxxx-xx/xx/xxxx) (married Xxxxxxx X. Xxxxxxxx)
(xx/xx/xxxx-xx/xx/xxxx) (married Xxxxxxx X. Xxxxxxxx)
(xx/xx/xxxx-xx/xx/xxxx) (married Xxxxxxx X. Xxxxxxxx)
(xx/xx/xxxx-xx/xx/xxxx) (married Xxxxxxx X. Xxxxxxxx)
(xx/xx/xxxx-xx/xx/xxxx) (married Xxxxxxx X. Xxxxxxxx)
PHOTOS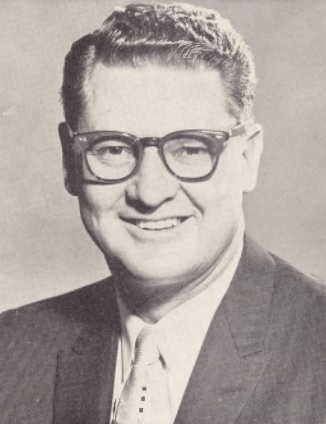 WCHS-04057 William A. Barlocker while he was Mayor of St. George



REFERENCES
Rise and Fall of the Turkey Empire
Utah History to Go article by W. Paul Reeve, August 1996

Thanksgiving, John F. Kennedy and the death of a Washington County turkey empire
Article by Julie Applegate, St. George News, November 24, 2016

FamilySearch entry for William Arthur Barlocker

Find-A-Grave entry for William Arthur Barlocker