BIOGRAPHY
Samuel Judd was born in Cubbington, Warwickshire, England on July 10, 1820.

Catherine Hines was born in Manchester or Birkenhead, Lancashire, England on May 10, 1821. Her last name is sometimes listed as Hinds or Hindes.

Samuel JUDD were married on 18 Mar 1843. They were sealed in Salt Lake Endowment House on September 5, 1868.

Samuel traveled to America first to prepare the way for his family. He arrived in Salt Lake Valley on October 1, 1862 and immediately traveled to St. George.

Catherine, with their eight surviving children (two had died crossing the plains) arrived in Salt Lake City on October 4, 1864.

Their first home in St. George was a dug-out which they gradually improved.

Samuel died in St. George on April 19, 1869. He is buried in Plot A_A_9_4_NW of the St. George City Cemetery.

Some time later, Catherine married John Hyatt and they settled in Glendale in Kane County.

Catherine died in Kanab on August 10, 1897. She was originally buried in Glendale, but then was moved to Plot A_A_8_6_EH of the St. George City Cemetery.



FAMILY
Samuel's Parents and Siblings:
Thomas Judd
Mary Dowler Judd
Xxxxxxx X. Xxxxxxxx
Xxxxxxx X. Xxxxxxxx
Samuel Judd
Xxxxxxx X. Xxxxxxxx
Xxxxxxx X. Xxxxxxxx

(xx/xx/xxxx-xx/xx/xxxx) (married xx/xx/xxxx)
(xx/xx/xxxx-xx/xx/xxxx)
(xx/xx/xxxx-xx/xx/xxxx) (married Xxxxxxx X. Xxxxxxxx)
(xx/xx/xxxx-xx/xx/xxxx) (married Xxxxxxx X. Xxxxxxxx)
(7/10/1820-4/19/1869) (married Catherine Hines)
(xx/xx/xxxx-xx/xx/xxxx) (married Xxxxxxx X. Xxxxxxxx)
(xx/xx/xxxx-xx/xx/xxxx) (married Xxxxxxx X. Xxxxxxxx)

Eliza's Parents and Siblings:
David Hines
Elizabeth Lunt Hines
Xxxxxxx X. Xxxxxxxx
Xxxxxxx X. Xxxxxxxx
Xxxxxxx X. Xxxxxxxx
Xxxxxxx X. Xxxxxxxx
Xxxxxxx X. Xxxxxxxx


(xx/xx/xxxx-xx/xx/xxxx) (married xx/xx/xxxx)
(xx/xx/xxxx-xx/xx/xxxx)
(xx/xx/xxxx-xx/xx/xxxx) (married Xxxxxxx X. Xxxxxxxx)
(xx/xx/xxxx-xx/xx/xxxx) (married Xxxxxxx X. Xxxxxxxx)
(xx/xx/xxxx-xx/xx/xxxx) (married Xxxxxxx X. Xxxxxxxx)
(xx/xx/xxxx-xx/xx/xxxx) (married Xxxxxxx X. Xxxxxxxx)
(xx/xx/xxxx-xx/xx/xxxx) (married Xxxxxxx X. Xxxxxxxx)

Samuel & Catherine's Family:
Samuel Judd
Catherine Hines Judd
Emma Judd
Thomas Judd
John James Judd
Joseph Judd
Mary Judd
Elizabeth Judd
Catherine Judd
Samuel Judd Jr.
Affra Judd
David Judd


(7/10/1820-4/19/1869) (married 3/18/1843)
(5/10/1821-8/10/1897)
(1/7/1844-6/8/1846)
(9/1/1845-6/7/1922) (married Mary Jane Ashworth)
(6/6/1847-xx/xx/1849)
(2/2/1849-1/4/1929) (married Helen Francis Joyce)
(10/23/1850-10/1/1868) (married David H. Cannon)
(6/1/1852-10/27/1931) (married Oliver Elmer)
(4/19/1854-12/27/1926) (married James Deleplane Carpenter)
(8/16/1856-7/20/1926) (married Eliza Ann Worthen)
(3/22/1860-6/26/1864)
(11/16/1862-1/19/1864)
PHOTOS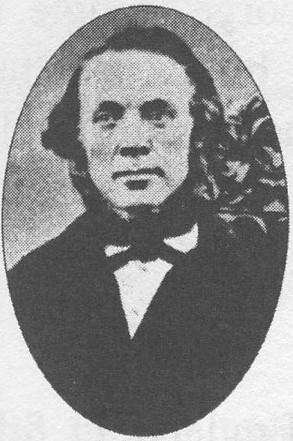 Samuel



REFERENCES
A History of Samuel Judd
A History of Catherine Judd
A biography of Samuel Judd
A biography of Catherine Hinds Judd
Find-A-Grave entry for Samuel Judd
Find-A-Grave entry for Catherine Hines Judd
Find-A-Grave entry for John Hyatt