BIOGRAPHY
Orson Bennett Adams was born in Alexander, Genesee County, New York on March 9, 1815.

Orson married Susannah "Susan" Smith in 1836 in Morgan, Illinois. They moved to Schyler, Illinois. They had three daughters and an adopted son. In 1840, the family was living in Brown, Illinois, and it was in that year that the family joined the Mormon Church. They moved to Nauvoo, Illinois, where Orson helped build the Mormon temple. In 1844, Orson and Susan, who had lost two babies, were given a baby boy whose mother had died, who they adopted and raised.

Orson was the second man to join the Mormon Battalion, enlisting on July 16, 1846. Susan also went as a laundress and nurse (she had been raised in the home of Dr. Priddy Meeks). Orson was discharged on December 16, 1847.

In 1859, Orson married Charlotte Elizabeth Gingell. Orson & Charlotte had two children, but then she left him and remarried in Wyoming.

In 1861 (spring of 1862?), Orson was called to settle at the confluence of Leeds and Quail Creeks. Nine families built the new settlement called Harrisburg. A small sandstone masonry house was built in 1863 for the family, and it is still standing. The family lived in this house until the early 1890s.

In 1869, Orson became presiding elder of Harrisburg (what would now be known as bishop). In 1874, he was made treasurer of the Leeds Ward United Order. He then served again as presiding elder in Harrisburg from 1876 to 1889 and as bishop of the Harrisburg Ward from 1889 to 1891 when meetings in Harrisburg were discontinued and people then attended meetings in Leeds.

During the winter of 1870, John Kemple stayed with their family and made the famous initial discovery of silver in the surrounding reefs. Orson was one of those who filed a mining claim under the Union Mining District formed by John Kemple. When the district was reorganized in 1874, Orson was the president of the new Harrisburg Mining District (which encompassed 144 square miles with the schoolhouse at its center).

Susan died in Harrisburg on January 23, 1892 and was buried in the Leeds City Cemetery. Orson soon moved to his daughter's home in Leeds. He died there on February 4, 1901 and was buried in the Leeds City Cemetery.



FAMILY
Orson's Parents and Siblings:
Elisha Bennett Adams
Asenath Lucy Camp Adams
Sally Adams
Filander Adams
Elisha Gillette Adams
Lavinna Adams
Amanda M. Adams
Asenath Adams
Sarah Adams
Joel Madison Adams
Elia Adams
Orson Bennett Adams
Hannah Jane Adams
George Adams
Joseph Adams
Mary Ann Adams
Hyram Adams
Catherine Adams

(5/27/1778-5/1/1845) (married 12/3/1802)
(4/7/1783-8/16/1864)
(xx/xx/1802-xx/xx/xxxx) (married Xxxxxxx X. Xxxxxxxx)
(xx/xx/1803-xx/xx/xxxx) (married Xxxxxxx X. Xxxxxxxx)
(xx/xx/1805-xx/xx/xxxx) (married Xxxxxxx X. Xxxxxxxx)
(xx/xx/1807-xx/xx/xxxx) (married Xxxxxxx X. Xxxxxxxx)
(xx/xx/1808-xx/xx/xxxx) (married Xxxxxxx X. Xxxxxxxx)
(xx/xx/1810-xx/xx/xxxx) (married Xxxxxxx X. Xxxxxxxx)
(xx/xx/1811-xx/xx/xxxx) (married Xxxxxxx X. Xxxxxxxx)
(xx/xx/1812-xx/xx/xxxx) (married Xxxxxxx X. Xxxxxxxx)
(xx/xx/1813-xx/xx/xxxx) (married Xxxxxxx X. Xxxxxxxx)
(3/9/1815-2/4/1901) (married as shown below)
(xx/xx/1818-xx/xx/xxxx) (married Xxxxxxx X. Xxxxxxxx)
(xx/xx/1819-xx/xx/xxxx) (married Xxxxxxx X. Xxxxxxxx)
(xx/xx/1821-xx/xx/xxxx) (married Xxxxxxx X. Xxxxxxxx)
(xx/xx/1825-xx/xx/xxxx) (married Xxxxxxx X. Xxxxxxxx)
(xx/xx/1827-xx/xx/xxxx) (married Xxxxxxx X. Xxxxxxxx)
(xx/xx/1829-xx/xx/xxxx) (married Xxxxxxx X. Xxxxxxxx)

First Wife and Children:
Susannah Smith Adams
Mary Jane Adams
Martha Jane Adams
John Smith Page Adams

Susannah Adams


(5/30/1819-1/23/1892) (married 3/20/1836)
(4/11/1838-8/1/1838)
(2/21/1841-3/1/1841)
(5/11/1844-4/19/1935) (adopted 6/28/1844; married Sarah Jane Averett
and Mary Elizabeth Adair)
(6/3/1853-8/8/1931) (married William Silas Harris)

Second Wife:
Dorothy Martin Roberts Adams


(5/1/1816-2/22/1877) (married 11/10/1856)

Third Wife and Children:
Charlotte Elizabeth Gingell Adams
Caroline Augusta Adams

Oliver Randolph Adams


(9/1/1841-2/12/1879) (married 7/21/1859)
(9/10/1861-6/27/1938) (married William Dennis Dugdale
and John Chester Baxter Wade)
(9/29/1864-2/22/1938) (married Sarah Eardley)

Fourth Wife:
Elizabeth Jane Carter Adams


(xx/xx/1824-xx/xx/1883) (married xx/xx/xxxx)

Fifth Wife:
Ann Henry Adams


(xx/xx/xxxx-xx/xx/xxxx) (married xx/xx/xxxx)
PHOTOS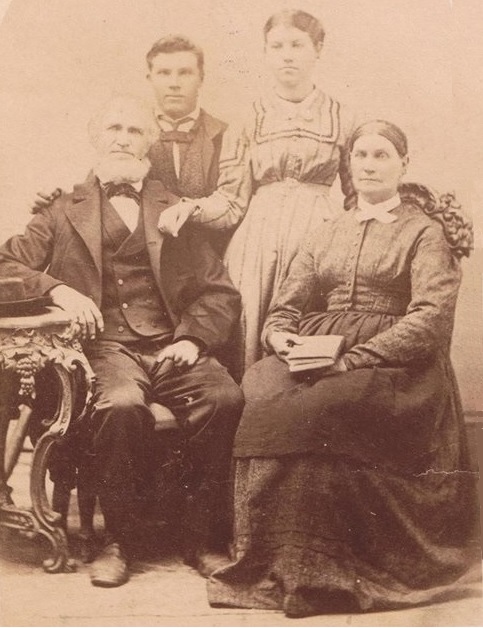 Orson & Susan Adams and William & Susanna Harris



REFERENCES
Orson Bennett Adams
A research report by Elaine Young, PhD.

Susannah "Susan" Smith (Wife of Orson B Adams)
A research report by Elaine Young, PhD.

Henry Adams of Braintree and his Descendants
by Terry A. Bartholomew

FamilySearch entry for Orson Bennett Adams

Find-A-Grave entry for Sgt Orson Bennett Adams

FamilySearch entry for Susannah Smith

Find-A-Grave entry for Susannah "Susann" Smith Adams

FamilySearch entry for Dorothy Martin

FamilySearch entry for Charlotte Elizabeth Gingell

Find-A-Grave entry for Charlotte Elizabeth Gingell Edmisson

FamilySearch entry for Elizabeth Jane Carter

FamilySearch entry for Ann Henry