BIOGRAPHY
Napoleon "Pole" Bonaparte Roundy was born February 5, 1851 in Centerville, Davis County, Utah Territory. In the early 1860s, his family was sent to southern Utah: Toquerville, Kanab, Long Valley, and then Kanarraville.

Tensions were high with local Indian tribes, so Pole learned at a young age to handle guns as he guarded the family's livestock. At just 12 years old, the resourceful young Pole earned enough money to buy his first gun "shocking" wheat for neighbors by moonlight after he had finished his day's work for his father. He became an expert marksman.

He served in Captain Lorenzo N. Roundy's Company in the Utah Cavalry from 1865 to 1867. He was a private in W. Coplan's Company of the Utah Territorial Militia from February 25 to March 13, 1869.

Napoleon worked for his father on the farm until he married Elizabeth Margaret Williams on January 11, 1872 in St. George.

About 1880, President Brigham Young asked some worthy men to take another wife. Elizabeth and Napoleon talked it over, and he told her she should make the selection of a second wife. With her consent, he married Louisa Jane Higgins on April 28, 1880 in St. George.

People from all over southern Utah came to be entertained by the rooster and dog fights, horse races and rifle matches of the Silver Reef Rifle Club. In March of 1880, Napoleon challenged Enos A. Wall to a shooting match. Wall was known as "Colonel" even though it was not his true military title. Local gamblers believed that the well-dressed Colonel, with his years of military experience and a fancy new Henry rifle, would win the $100 pot. Napoleon was rough-cut, ill dressed, with an odd-looking long rifle. Napoleon was the winner, much to Colonel Wall's chagrin. A rematch for double the pot was won by Napoleon with an even wider margin of points. There were several more rematches over the years, but Wall was never able to beat Napoleon. Once Wall hired someone to interrupt Napoleon as he was about to pull the trigger, but it didn't deter him.

About 1881, Napoleon was called on a mission by his church to help establish a friendly relationship and to preach the gospel to the Indians of Arizona. He sold his property in Kanara and moved his family to Snowflake, Arizona, where they lived for five years. Napoleon purchased a farm that the family cared for and he went about his work with the Indian People.

In 1886, Napoleon moved his family to the embryonic community of Escalante in Garfield County, Utah. There he spent the rest of his life. He raised sheep and became very prosperous.

Pole died October 6, 1928 in Escalante. He is buried in Plot 371 of the Escalante Cemetery.



FAMILY
Pole's Parents and Siblings:
Lorenzo Wesley Roundy
Susannah Wallace Roundy
Wallace Wesley Roundy
Malinde Elizabeth Roundy
Xxxxxxx X. Xxxxxxxx
Napoleon Bonaparte Roundy
Matilda Ann Roundy
Celestia Almeda Roundy
Mary Isabelle Roundy
Lorenzo Wesley Roundy Jr.
Xxxxxxx X. Xxxxxxxx

(6/18/1890-5/24/1876) (married 5/16/1847)
(12/12/1820-7/4/1892)
(3/16/1848-8/6/1918) (married Margaret Ann Young and Esther Ford)
(7/5/1849-6/10/1916) (married Joseph Henry Pollock)
(xx/xx/xxxx-xx/xx/xxxx) (married Xxxxxxx X. Xxxxxxxx)
(2/5/1851-10/6/1928) (married Elizabeth Margaret Williams and Louisa Jane Higgins)
(10/14/1852-9/12/1919) (married Byron Donalvin Roundy)
(7/30/1854-3/14/1934) (married William Patterson Willis)
(2/3/1857-6/14/1938) (married William Reese Williams)
(5/20/1861-8/29/1904) (married Sarah Moosman)
(xx/xx/xxxx-xx/xx/xxxx) (married Xxxxxxx X. Xxxxxxxx)

First Wife and Children:
Elizabeth Margaret Williams Roundy
Rachel Susannah Roundy
Ammon Lorenzo Roundy
Johanna Roundy
Reese Jones Roundy
Anice Roundy
Wallace Napolean Roundy
Albert Ervin Roundy
Walter Marion Roundy
Alof Larson Roundy
Lenora Roundy
Verda May Roundy
Xxxxxxx X. Xxxxxxxx


(9/5/1855-4/19/1909) (married 1/11/1872)
(11/22/1873-4/17/1957) (married John Shurtz)
(6/26/1877-8/30/1954) (married Ida Emma Barker and Elizabeth Liston)
(5/2/1880-5/11/1969) (married Peter Orrin Barker)
(5/12/1882-12/20/1955) (married Sarah Rosalie Griffin)
(5/23/1885-4/5/1967) (married Michael Schow)
(5/1/1888-10/7/1977) (married Ella May Griffin)
(10/24/1890-6/20/1964) (married Adelia Porter and Elizabeth Gates Griffin)
(10/24/1890-9/3/1916)
(12/31/1893-6/18/1924)
(9/20/1897-8/26/1995) (married Ray Griffin)
(1/21/1903-3/20/1936) (married Calvin Shurtz)
(xx/xx/xxxx-xx/xx/xxxx) (married Xxxxxxx X. Xxxxxxxx)

Second Wife and Children:
Louisa Jane Higgins Roundy
Sarah Alice Roundy
Hannah Diantha Roundy
Rebecca Roundy
Hyrum Shadrack Roundy


(xx/xx/1853-7/4/1888) (married 4/28/1880)
(4/7/1881-5/19/1916) (married Robert Barker, Ephriam Hyrum Coombs, and Hyrum Adelbert Porter)
(9/28/1883-11/5/1906) (married Frank Barney)
(4/6/1886-1/18/1967) (married Joseph Andrew Griffin)
(6/20/1888-5/15/1960) (married Jane Lay)
PHOTOS
| | | |
| --- | --- | --- |
| Napoleon | Elizabeth | Louisa |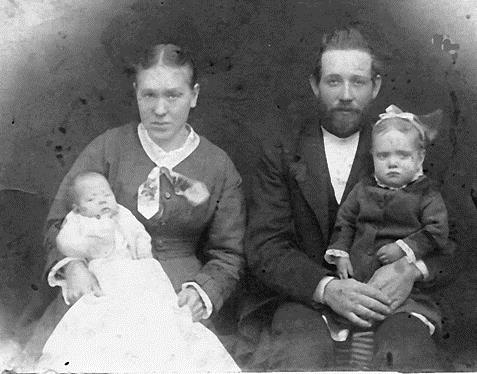 Louisa, Napoleon, and children about 1883



REFERENCES
Napoleon Bonaparte Roundy
A research report by Elaine Young, PhD.

Napoleon Bonapart Roundy Families Information and Photos

Napoleon Bonaparte Roundy entry in Ancestry

Napoleon Bonaparte Roundy entry in The Hill Family Geneaology

Turning the Hearts: Kanarraville Marksman - Napoleon Bonaparte Roundy

Back to yesteryear: Legend of Napoleon Bonaparte Roundy
by Gerald R. Sherratt
Iron County Today, July 28, 2010

Pole Roundy - The Marksman of Boulder, Utah
November 22, 2013

Find-A-Grave entry for Napoleon Bonaparte "Pole" Roundy