OBITUARY
Linda Karen Platt was born November 25, 1940, at Price, Utah, daughter of Elmer Dean Petty and Florence Ann Behunin. She spent her youth in Hiawatha and Ferron, Utah, and at the family resort on Ferron Mountain, along with her four sisters, all of whom survive her: LaDean (Glen) Riches, Richfield; Phyllis Petty, Palm Desert, California; Annette (Orvel) Nelson, St. George; and Diane Petty, Salt Lake; she was the mother of two sons: Brent Alan (Emma) Fullerton, Draper; and Baird Hall (Ann) Fullerton, Chandler, Arizona; and eight grandchildren; married to Lyman De Platt.

From the time she was a child she pursued knowledge, one time telling the Hiawatha librarian that she was going to read every book in the library. She developed her innate understanding of people very early, was quick to distill the truth out of complex situations, and didn't particularly care if she offended those who were hiding truths. Her sharp wit caught many off guard. She held two masters degrees from USU and the University of Utah; with doctoral studies at BYU; and additional studies at Iowa State.

She was a noted historian, publishing books on Grafton, Harmony Valley, and Kolob Canyon. he was president of the Fort Harmony Historical Society.

Professionally she worked for the LDS Presiding Bishopric's Office and the Missionary Department as a research consultant; and for Utah Family Services, as a social worker.

She served several church service missions with her husband, one as codirector of the regional family history center in Cedar City. She was a temple ordinance worker in the St. George Utah LDS Temple; she taught in Primary, Sunday School and Relief Society multiple times.

Her extensive collection of Fort Harmony history and artifacts, local history, family history, and genealogy is being prepared for donation to SUU Special Collections. She was a staunch defender of abused and deprived children; she hated injustice and was instrumental in creating a state law to protect father's rights in custody and visitation issues; she was a trained arbitrator from the arbitration school at Boulder, Colorado, in adjudicating various problems between individuals, organizations, and state systems.

Her life was one of total dedication to helping people with special needs and problems. She had a clear vision of what we needed to do to prepare for celestial life. Her legacy is recorded for all to see and emulate.

Karen passed away on September 13, 2015. She will be sorely missed by her family and extensive number of friends. There was no viewing at her request. Funeral services were held Saturday, September 19, 2015 at 12:00 pm at the Kanarraville LDS Chapel (80 S Main, Kanarraville, UT). Interment was in the Kanarraville Cemetery under the direction of Southern Utah Mortuary.



PHOTOS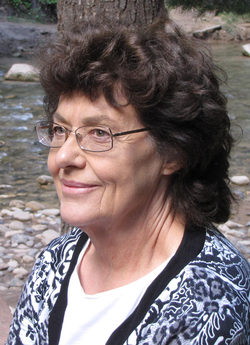 WCHS photos:
WCHS-00445 Photo of Karen Platt in front of the DeMille rock house at Shunesburg



REFERENCES
FamilySearch entry for Linda Karen Petty
Find-A-Grave entry for Linda Karen Petty Platt